Are you looking to buy a dining table for your home and feeling confused about what to choose? The internet is swarmed with various kitchen tables with benches that it's intimidating for a buyer to make a choice. But we will help you make the right choice since the below-mentioned tables are handpicked, keeping the buyers in mind.
We all deserve a peaceful meal with our family after a long day; a good dining table makes it happen. It's an investment for having cherished and long-lasting memories and not just a piece of furniture to buy. A dining kitchen table maximizes the seating capacity of space in addition to providing a cozy and intimate dining experience with your loved ones. The bench serves as a perfect complement to the table and chairs, providing a comfortable spot for family members and friends to gather and share memorable moments.
Let's look at some of the best options for kitchen tables available for you!
Best Kitchen Dining Tables with Bench/Chairs
1. Ashley Furniture Signature Design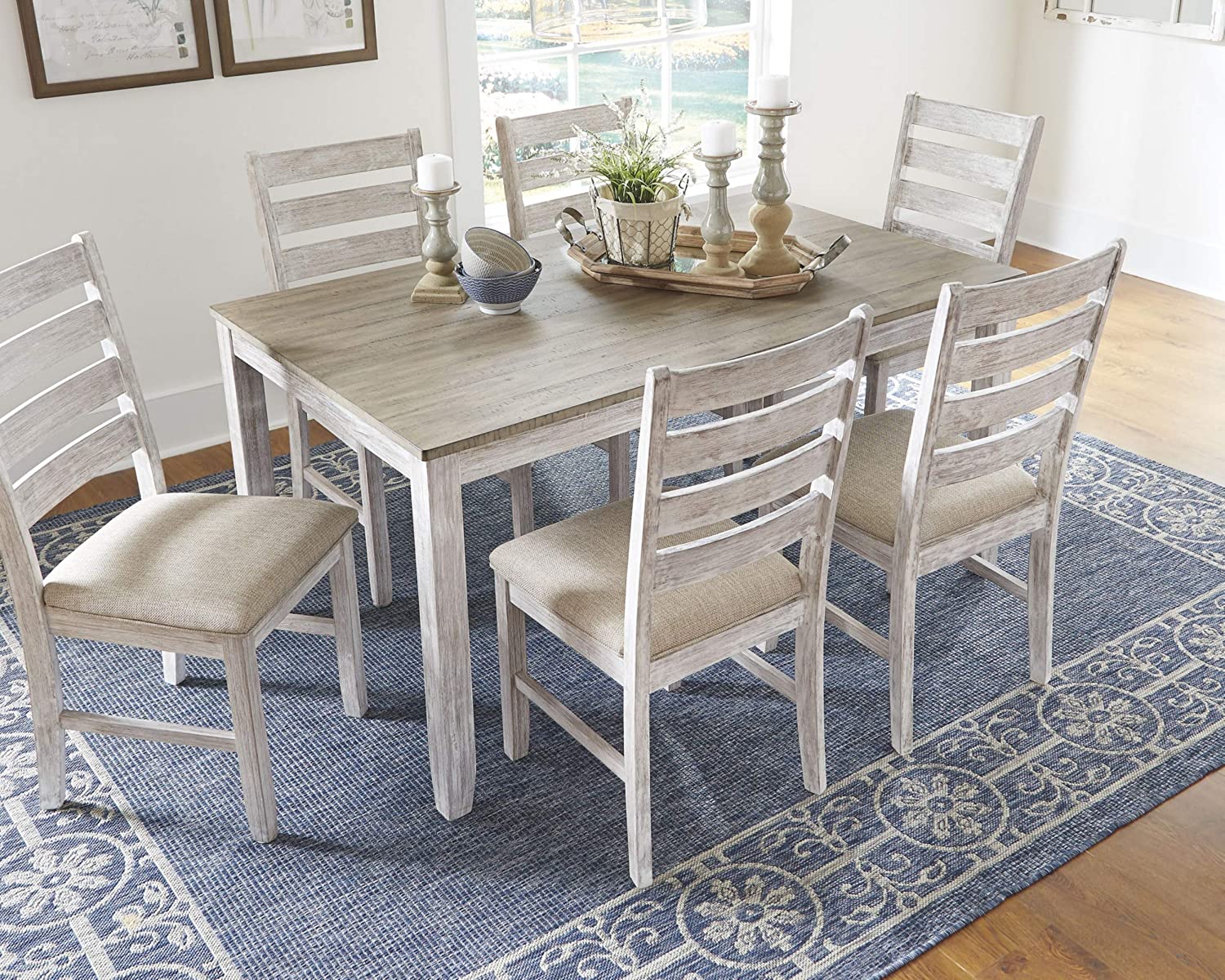 This dining kitchen table comes in a distressed finish and is an instant style statement for your dining room. Its country chic vibes match perfectly with different varieties of home decor like contemporary, farmhouse, and coastal decor ranges. It is a signature design by Ashley, and this one comes in 7 lavishing sets, and you also have the flexibility of adding more chairs if required! It comes in two colors, i.e., whitewash and brown, the latter costing 100 dollars more than the former.
It doesn't come assembled by the seller, but worry not, as the instruction manual is very easy to follow. The tools required to assemble your kitchen dining table are included in the package itself. So go ahead and bring this aesthetic kitchen table to your home today!
2. Zinus Farmhouse Dining Table with Two Benches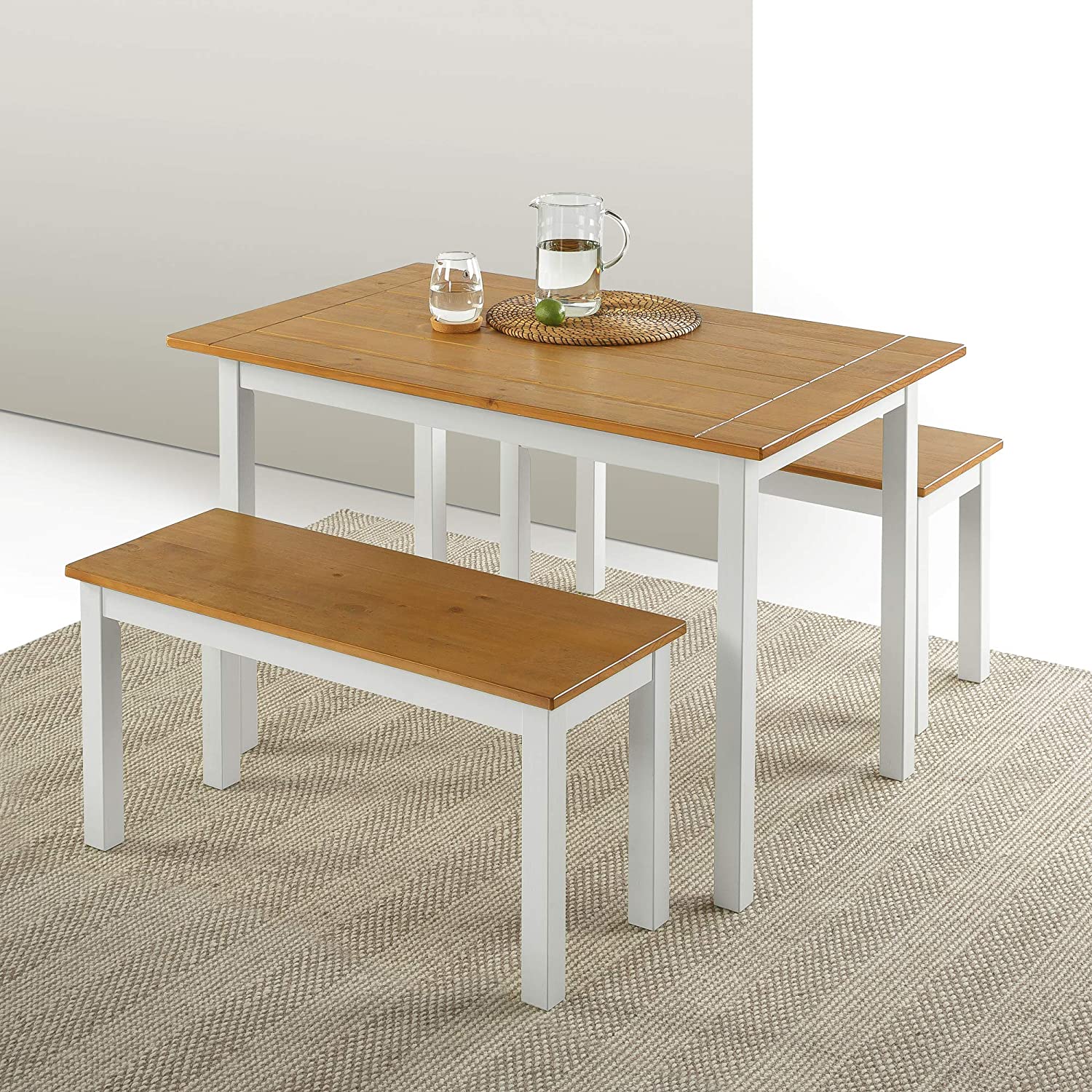 This dining kitchen table with bench comes in dual tone color and is made up of pine wood, providing you extra stability. The 3 piece set consisting of a dining table and 2 benches is good for a small family. Benches make for an intimate dining experience. Its rectangular design ensures that it doesn't occupy much space and adds to your home a country-style charm without any fuss! For small spaces, this table seems perfect.
Moreover, it requires assembly, but it's fairly easy to assemble this dining kitchen table. This product offers a 1-year warranty so that you can be worry-free while buying this product. Coming in the farmhouse and classic espresso color, you should bring this table home if your space is not that big and you don't want to compromise on your dining experience! 🙂
3. Coaster Home Furnishings 3-Piece Dining Set with Two Benches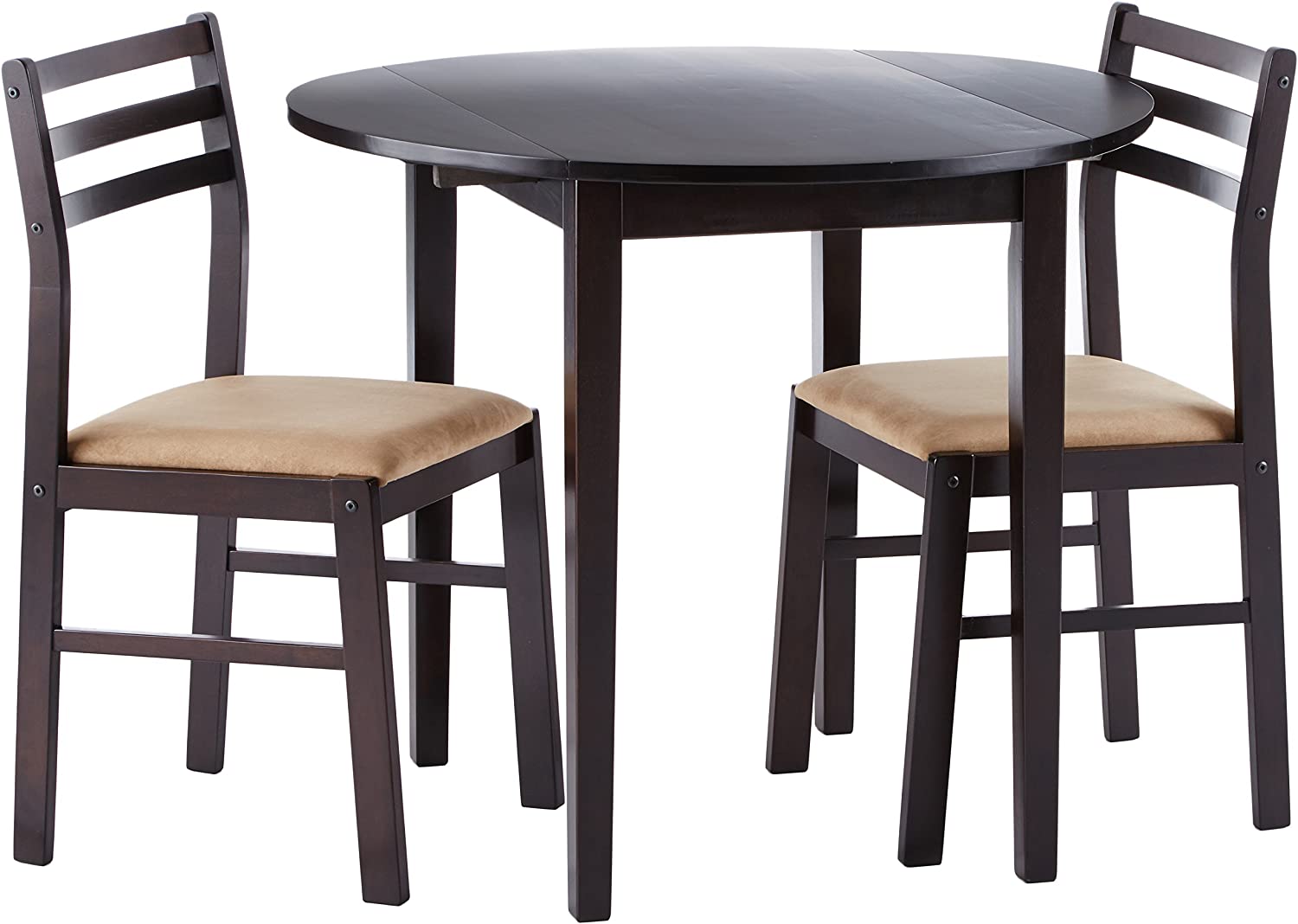 This dining kitchen table comes originally in a rectangular shape with flaps on the side. When you open the flaps, this rectangular table becomes rounded, giving you extra area for dining. The round table takes a bit more space but looks aesthetic as well. It comes in a dual-tone color, i.e., dark cappuccino and classic tan. This 3-piece dining set comes with 2 chairs and a table. The chair has cushions for added comfort. The minimalist design of this set is sure to fit all types of rooms and a variety of home decor.
This table seems perfect for a small family aiming for a quality dining experience. If you are not planning to use it for dining purposes, then you can simply adorn this table with an indoor house plant at the center to enhance your room's appeal.
4. Walker Edison Furniture Company Rustic Farmhouse Dining Room Table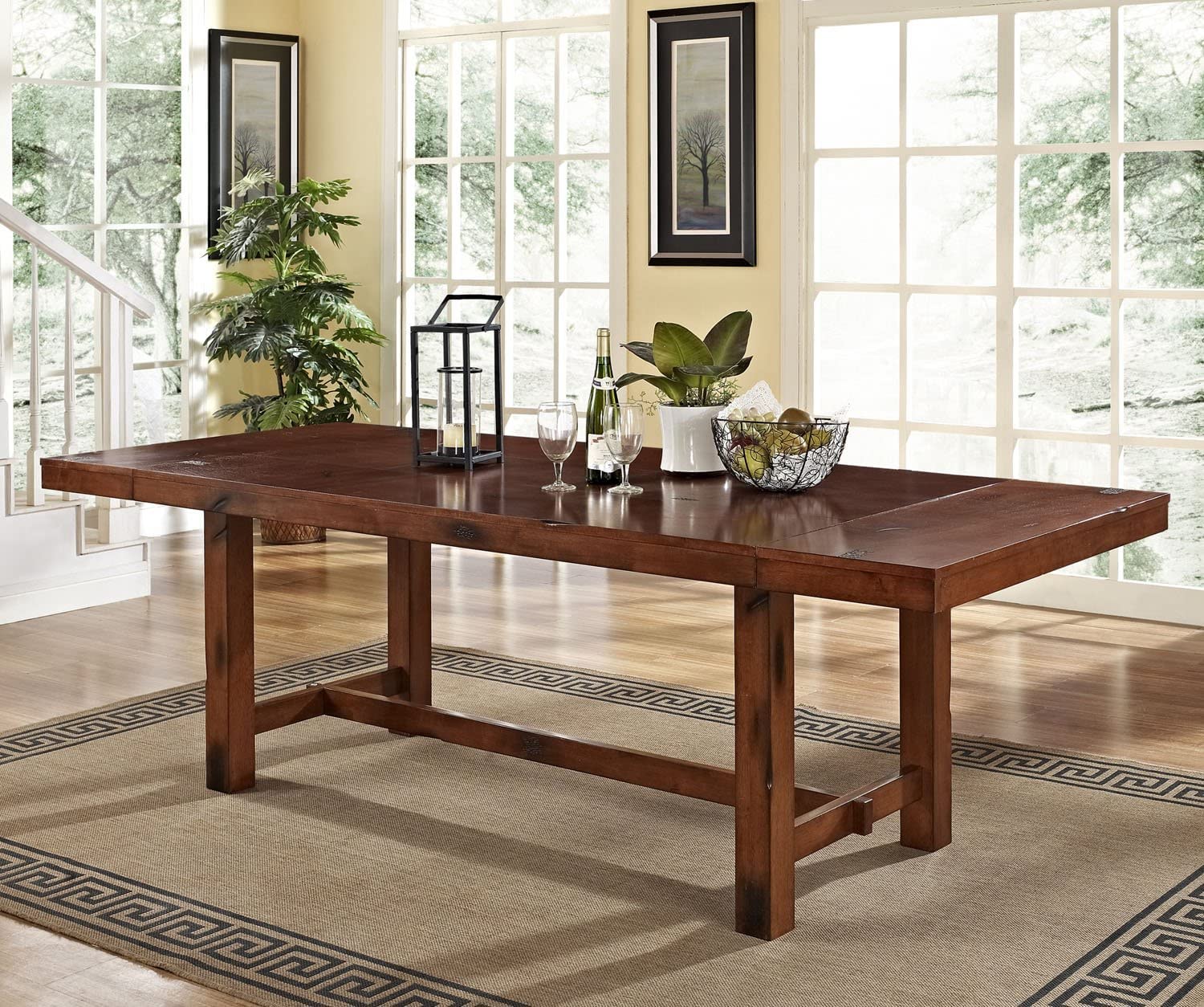 This is a standalone dining table that deserves the hype even when its not coming with chairs or benches like other products because of its sturdy build quality. It is a heavy-duty piece of furniture that is sure to last a long time, even when used roughly. This rectangular-shaped color is painted with vintage oak brown color, made with solid medium-density flex board (MDF). It can support an astounding weight of up to 100 pounds.
It has leaves or flaps on the side, which can be easily removed if you don't have the requirement of the extra space it offers. Other than that, for easy maneuverability, this dining kitchen table has hidden handles so that it becomes easy for you to move this table around. So why not add this heavy-duty table to your room and pair it with matching chairs for a loving dining experience?
5. WE Furniture Solid Wood Dining Bench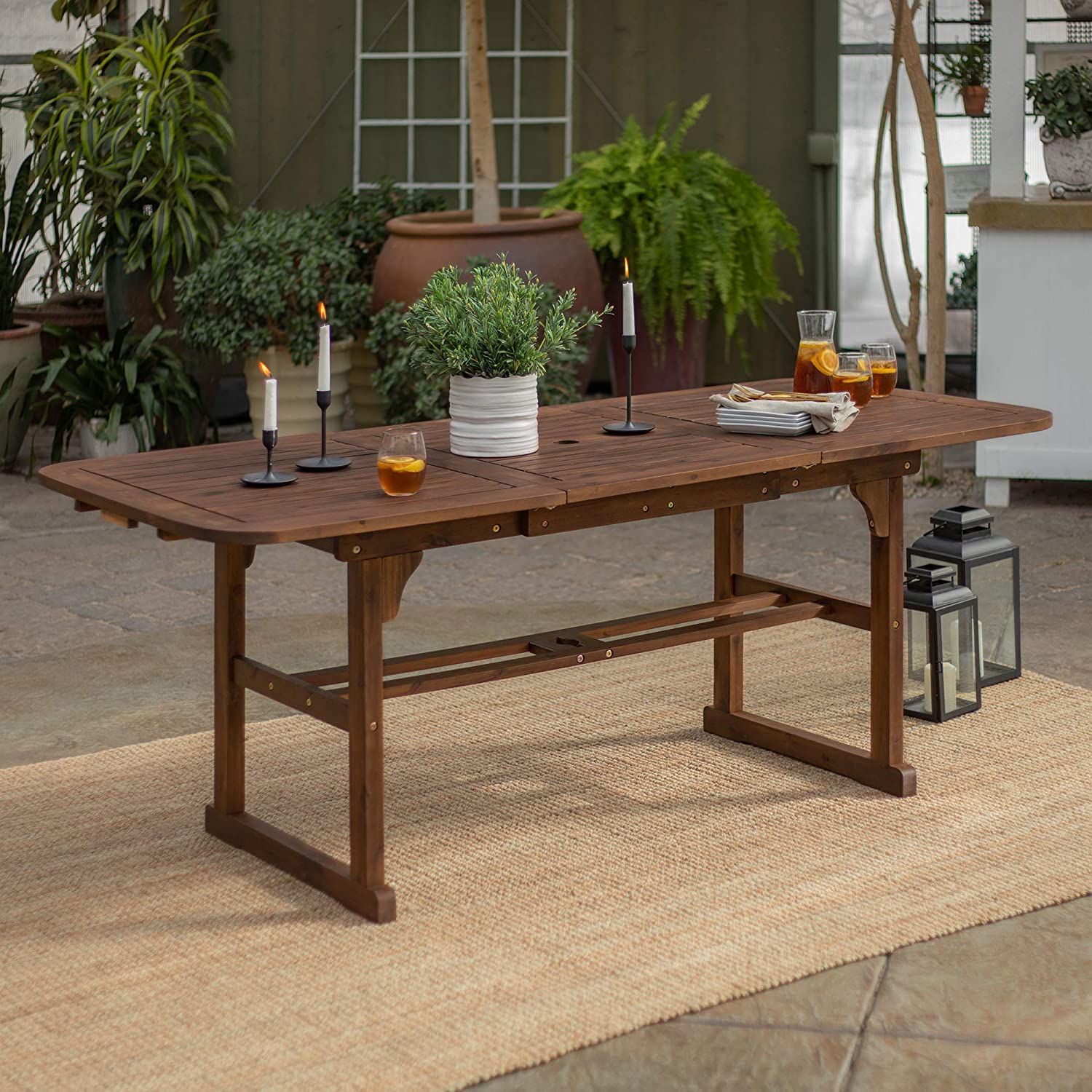 A very modern, sleek, stylish, and adjustable table to grace your dining room with its presence. This dining kitchen table is made up of solid acacia wood and comes in dark brown color. Since it comes in acacia wood, it is safe to use outdoors as well, making this table a perfect companion for get-togethers with your friends and family out in the garden or pool. This table's length is adjustable and can easily accommodate 8 people with ease.
If you're planning to use this table outdoors, avoid using teak oil, even if the Amazon listing above suggests that. Experts say that using teak oil on any other wood material other than made up of teak wood does more damage than protection.
6. East West Furniture 6-Piece Dining Table Set with Bench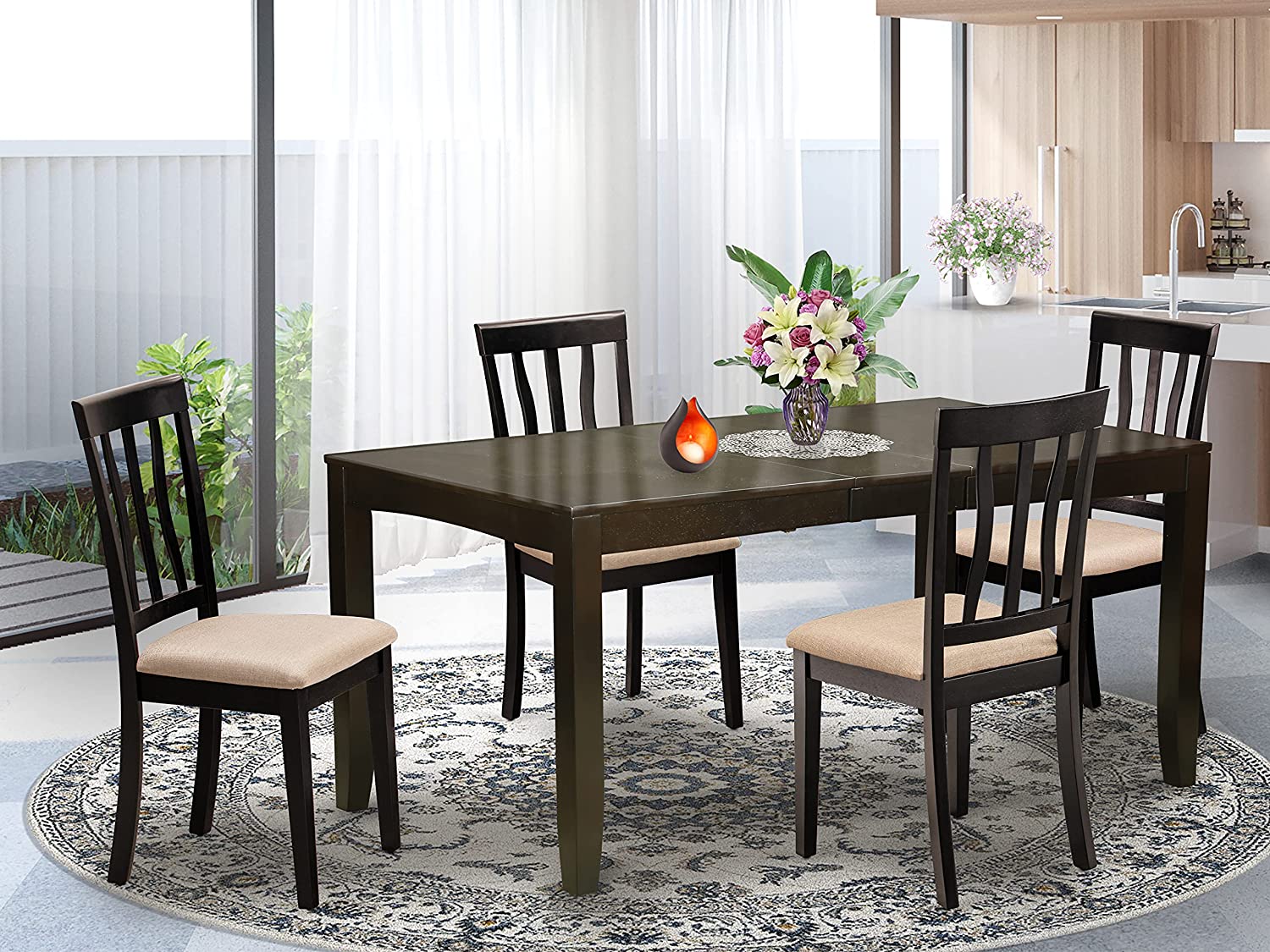 This dining kitchen table needs no introduction. This rectangular dining table comes in various variants ranging from simple wood type to cushions in some of the variants. This table is made up of high-quality Asian wood, and the cushions made up of linen fabric add to its comfort as well as its class. It has a glossy appearance which will make it stand out from your other furniture. But the glossy finish also attracts more dust, so you might need to clean it often.
The legs of the table and chairs are tapered to the bottom, giving the illusion of taking less space and adding a touch of modern sophistication to your dining space. A bit costlier than other dining tables but totally worth it for the comfort and aesthetic it offers.
7. IDS Home 7-Piece Wood Dining Table Set with Benches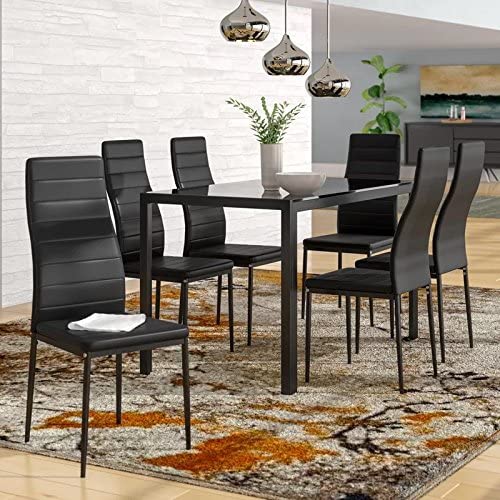 It is a glass dining set adding richness and exoticness to your kitchen dining space. It is incredibly modern and stylish and provides optimum comfort at the same time. With a glass top and sleek metal legs, it breathes luxury into your dining space. This 6-piece set provides offers spacious dining for at least 6 people to enjoy a meal and spend some quality time together.
You don't have to worry about the glass top being sensitive to normal damages. Though its a given that the glass top can never be as strong as a wooden top. However, this glass top comes with tempered glass protection offering substantial protection for your everyday usage.
You can safely buy this table without any worry if you're looking for a lavish dining experience right within the comfort of your home!
8. Better Homes and Gardens Autumn Lane Farmhouse Dining Set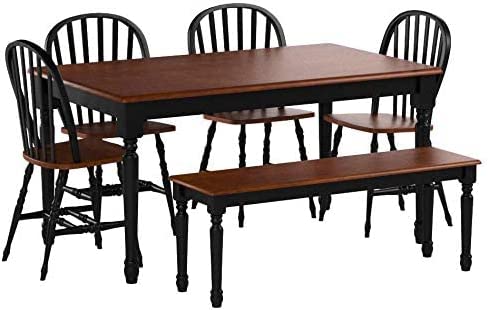 This dining kitchen table comes with a combination of a single bench, four chairs, and one dining table, making it a 6 piece set. Adding chairs to the mix makes this set complete. Since chairs offer a more close and intimate seating experience, however, most dining chairs don't come with back support, so they might not be an ideal option if any of your family members need lumbar support. Also, benches are not as portable as chairs, so if you plan to use the dining space for anything else, it might be hard to use remove the bench.
This dining table, particularly, is inspired by antiques and gives a very homely and traditional look to your space. This dining set, like most, requires assembly, which is no big deal. Because the instruction manual is written in an easy-to-understand and lucid manner so that you can assemble this chair without any professional help in just a matter of few minutes.
9. Homelegance 6-Piece Dining Set with Bench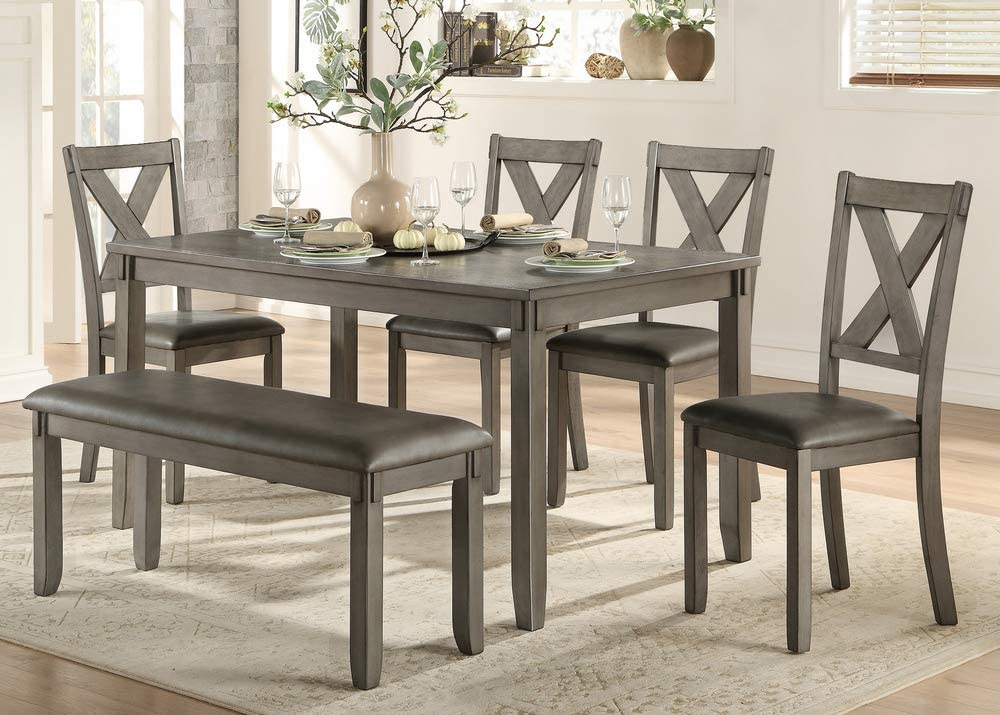 An extremely timeless piece of a dining set, adorned with muted grey color and an overall matte finish. The chair of this dining table set comes with ample cushioning, which is made up by mixing polyester and upholstery for your utmost comfort. When it comes to building, this table is made up of Okoume veneer and engineered wood, making it durable. The cushioning of the seats is covered with Gray PU leather giving a very exotic vibe to your space.
The color and finish of this table are versatile, and they can complement most types of decor and various wall colors. Grey being a neutral color, you don't have to worry about this furniture not blending well in your home. This dining table set is shipped in a single box and requires assembly, which can be easily done by following the instructional manual.
10. Signature Design by Ashley Bolanburg Dining Room Table Set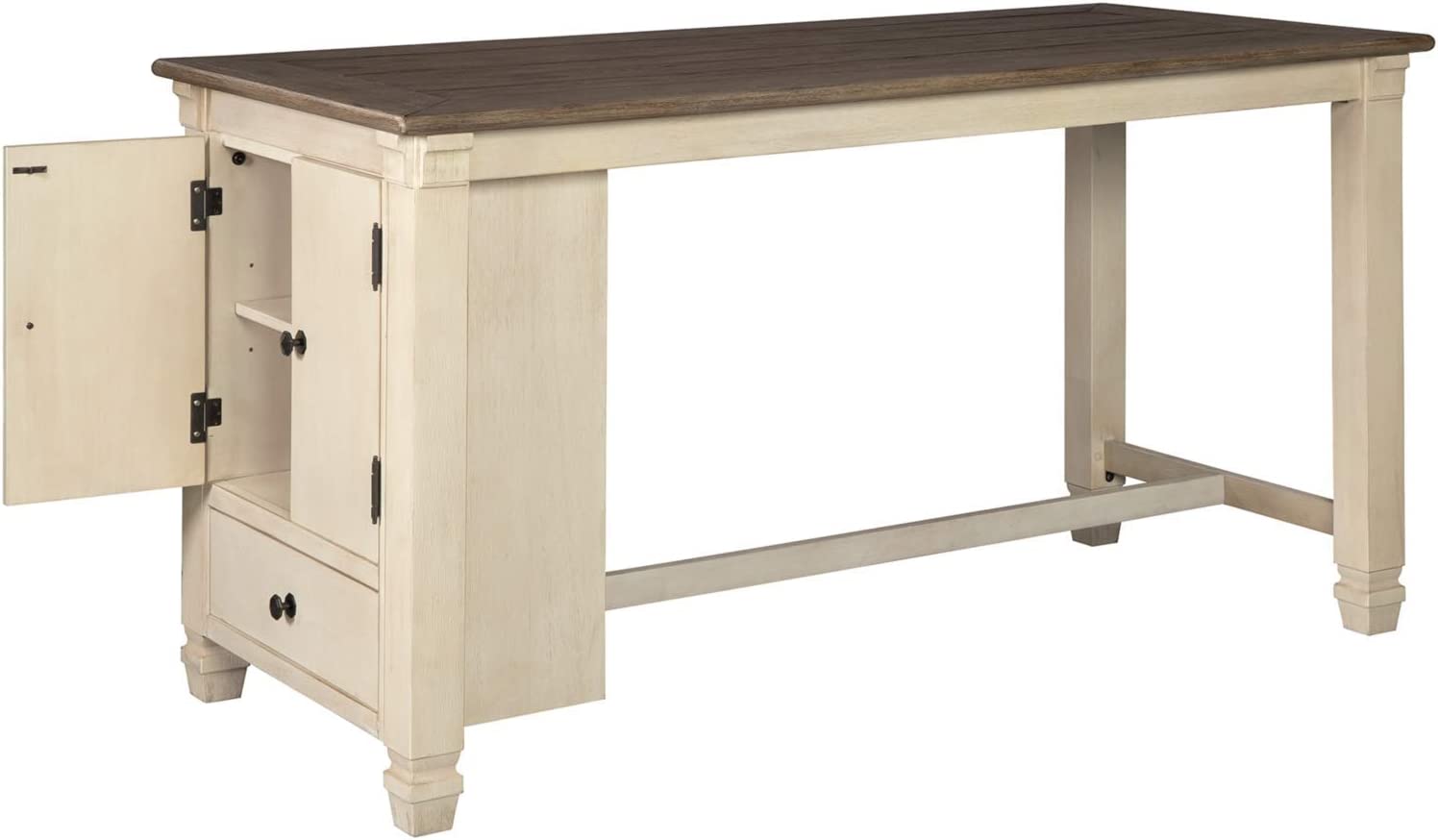 Made of veneers, wood, and engineers' wood, this table has an inbuilt cabinet for storing everyday essentials. It also has a single shelf, making it truly one of a kind dining table. The length and height of the table make it a go-to choice for several occasions. Like hosting Halloween parties, having people over for casual drinking, and enjoying a meal together.
With enough space and farmhouse style, you don't have to worry about this table being a bad investment. With a single drawer, a cabinet, and a sturdy countertop, this table checks all the boxes. Pair it with chairs or benches with optimum height to get your dining table set ready in no time! This table requires assembly, and the screwdriver is not provided by the manufacturer, so be ready with your tools to get this piece together in no time.
11. VASAGLE ALINRU Dining Table with Benches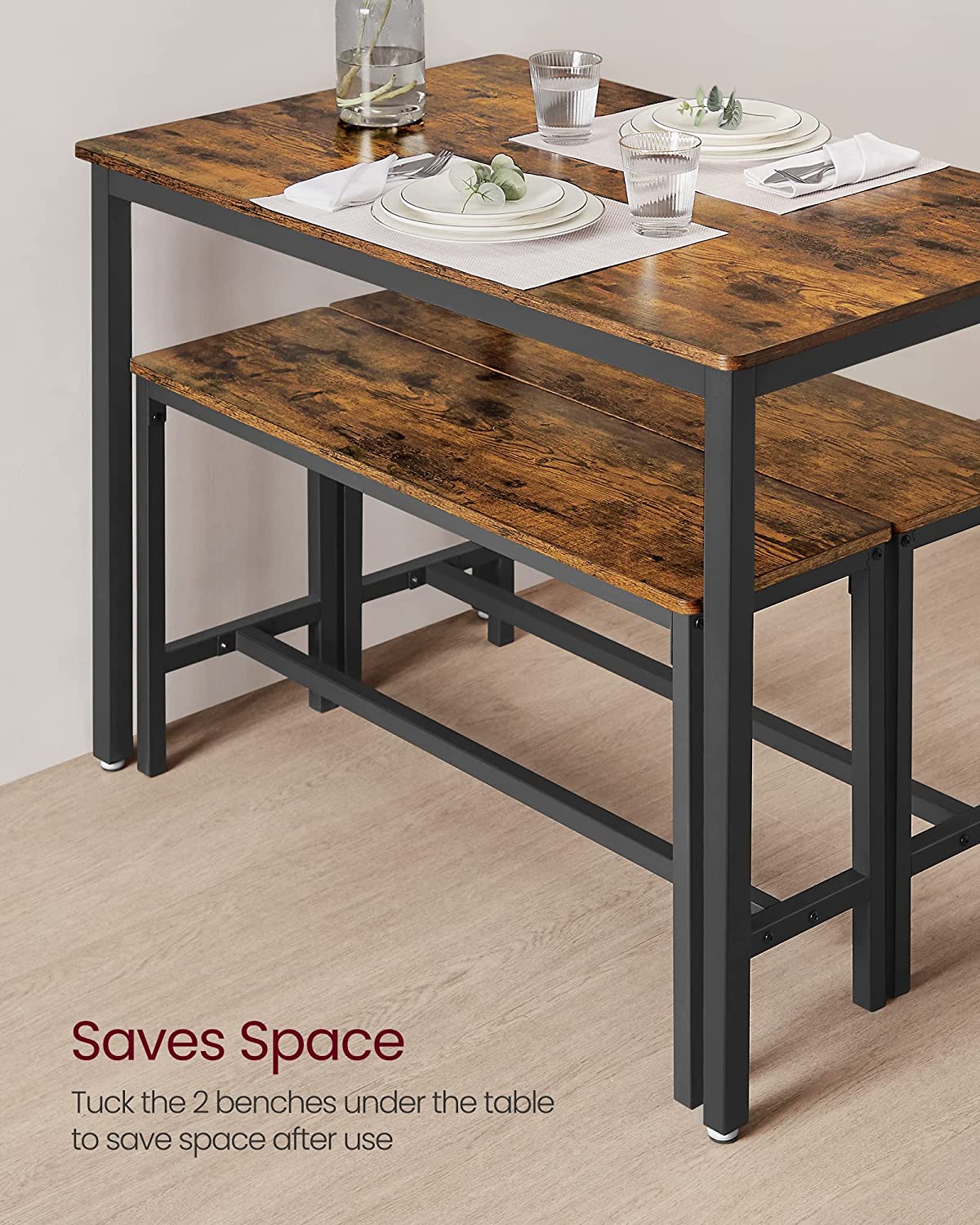 This dining kitchen table set brings a park-like aesthetic to your dining space. Its sturdiness can be verified by the strong steel framing and usage of particle board on the top. This 3 piece dining set offers two large benches and one table and provides a good dining experience for 4 people. What's interesting about the table are the benches which can be pulled and pushed under the table when not used. This is crucial because even if you have small rooms, you can easily place this table and take the benches out only when you are using them.
It comes in two color variants, i.e., rustic brown and classic black, making it highly versatile for many home decors. Particleboards are easy to clean, and its steel frame offers supreme hardness and durability, making it a perfect buy. Assembly is required, but worry not since everything you need is provided by the manufacturer.
12. Zinus Juliet Espresso Wood Dining Table with Two Benches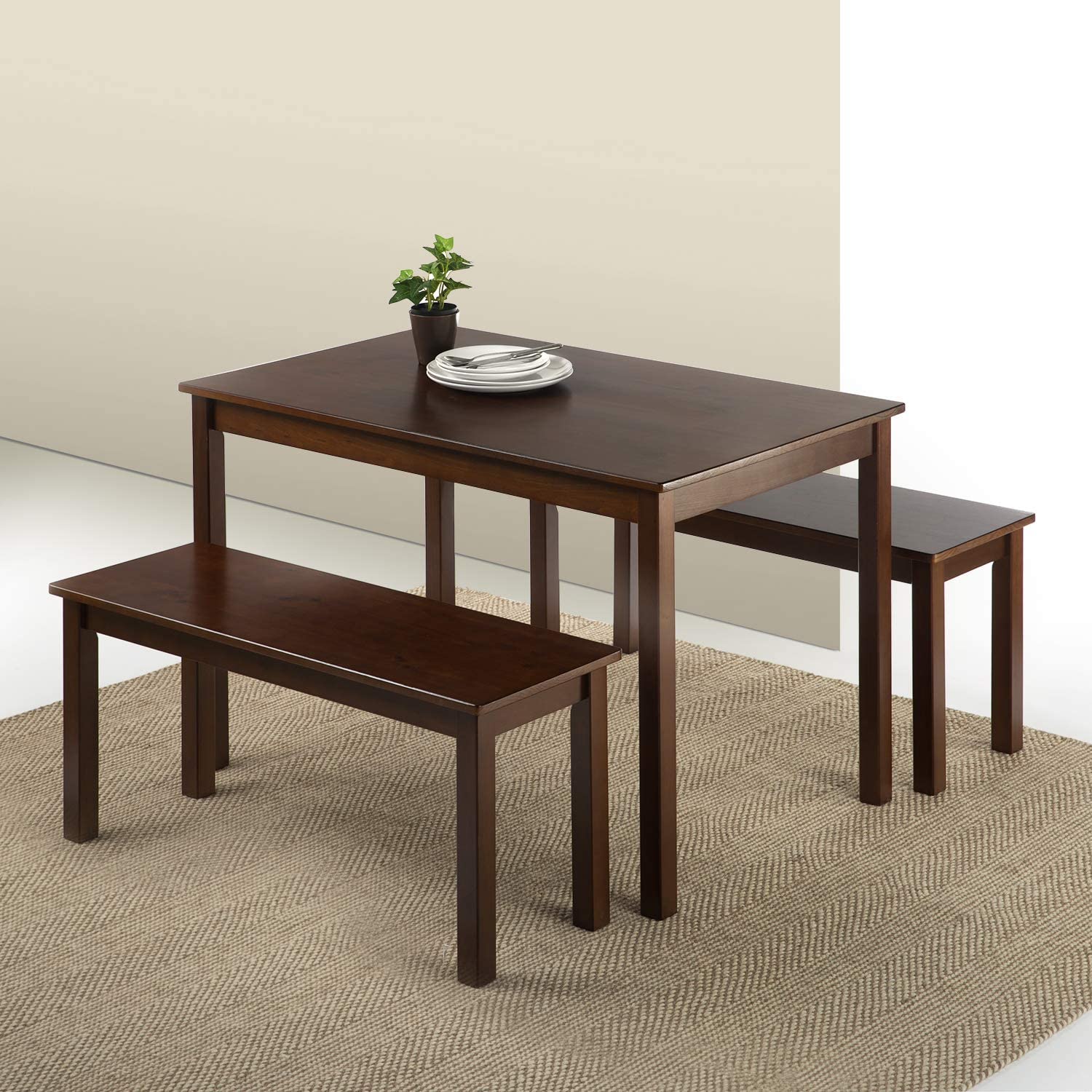 This is made up of durable solid wood and comes in the eye-catching color of espresso, and is finished in pine wood for antique and classic charm. This 3 piece kitchen table dining set comes with two benches and one exquisite table. A very minimalist design with rounded corners and vintage color instantly adds to the charm of any dining space.
The two benches offer a comfortable dining experience for four people. When not in use, you can easily slide the benches under the table, which is a real space saver. This table also requires assembly. However, by following the instruction manual, you can easily assemble the table in very less time and enjoy an unforgettable dinner with your family!
13. Baxton Studio 5-Piece Dining Set with Bench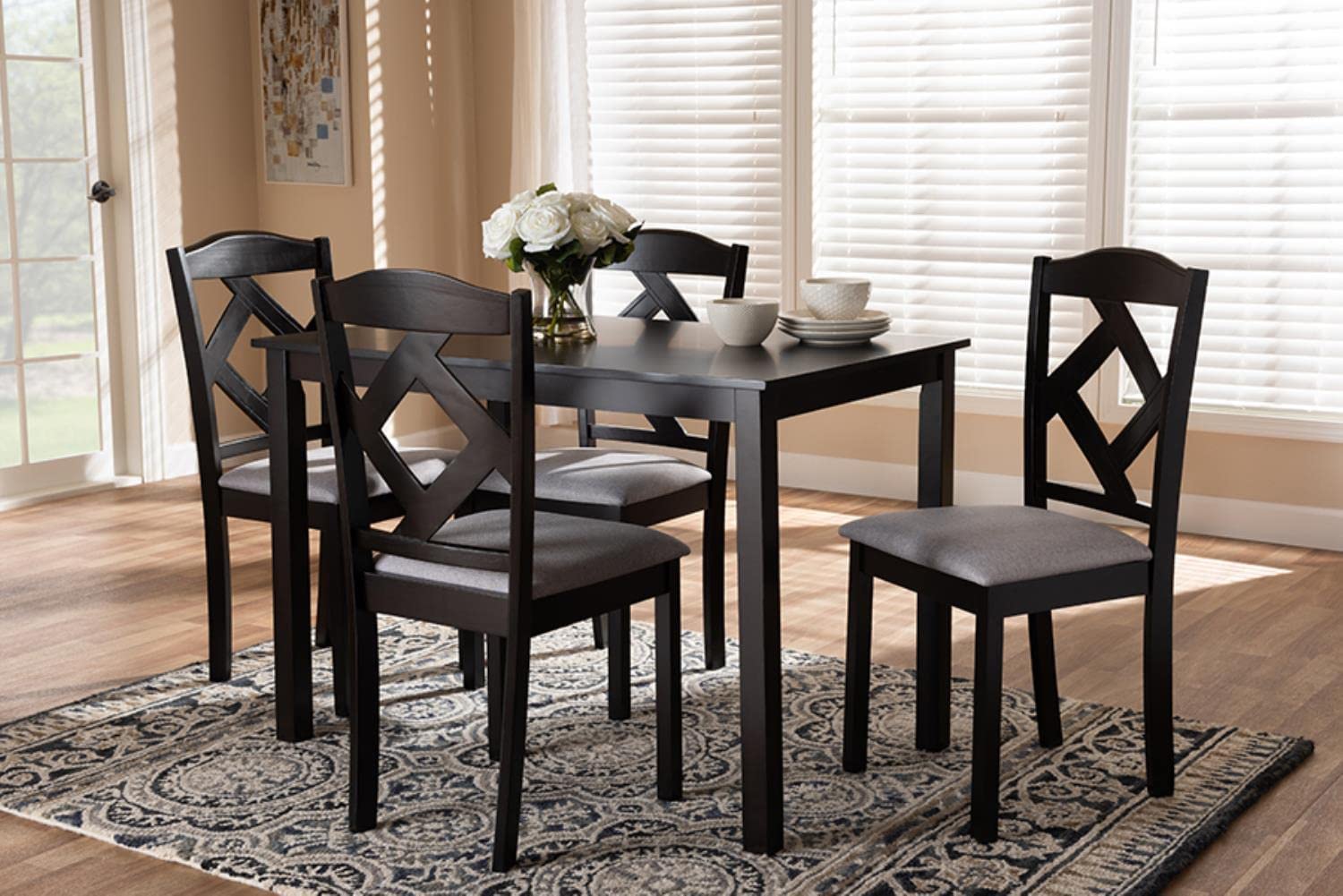 The design introduces itself as modern and contemporary. This dining kitchen table comes in espresso color with an elegant brown finish. The chairs of this dining table are made up of polyester upholstered fabric and well-cushioned for additional comfort. Its a 5 piece dining table set with four chairs and one bench. It is made up of solid construction wood, ensuring the longevity of the furniture.
The color is very deep and won't suit every home decor. So make sure that the color matches your room decor, or this dining table will not be able to blend in. For instance, if you have a light brown room decor, this rich dark-colored table will always stand out.
14. Dorel Living Montgomery 3-Piece Dining Set with Bench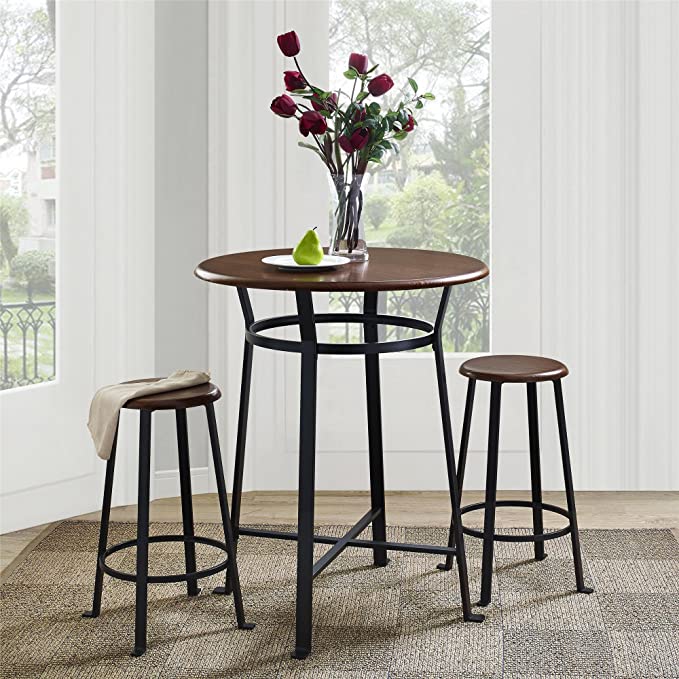 A timeless piece yet again, made up of infamous mahogany wood offering sturdiness and antique vibes. This 3 piece dining kitchen table set with chairs has one rounded table and two chairs. The build quality is phenomenal because of its steel construction and mahogany wood on the countertop. The table has an X-based design making it more stable. The chairs also have a footrest. Since the chair is at a certain height, the footrest adds to the comfort factor.
However, the chair doesn't have a backrest and armrest, which might be a deal breaker for many people. It doesn't seem as comfortable as the other options, but overall its still a great buy for its chic design, how it occupies less space, and for the quality, i.e., steel frame equipped with mahogany wood. Moreover, its only 3 pieces, which serves well if you have no kids. The space on the table will also look crammed because of the lack of space.
15. International Concepts 3-Piece Dining Table Set with Benches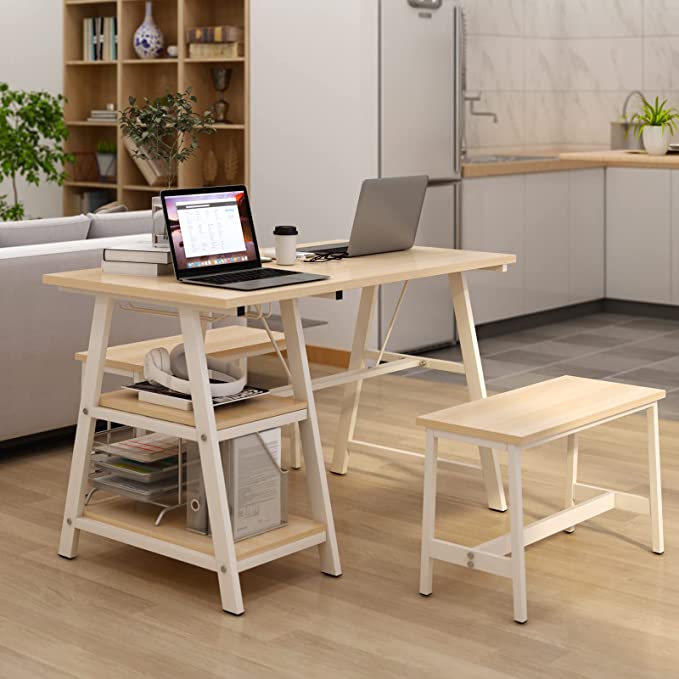 This is the most unique item on this list and definitely the most versatile. This table set can be used for office, kitchen, dining space, wine holder, or even for storage purposes. It is a 3 piece dining set with two benches and an all-in-one table having shelves, glass holders, and an exquisite countertop. Introducing a wine holder under the table and the shelf under it for storage purposes. This is the first in its class. It is made up of high-quality wood and has steel framing, promising a premium build. Under each leg of this exquisite set, there are rubber pads to protect your floor from unintended scratches.
It comes with two chairs, which makes it look cozy and chic. With style at its peak, this makes it a great statement piece for your dining room space. Assembly is really easy as all parts are readily available in the package itself, along with the tools and the instruction manual.
16. Harper & Bright Designs 6-Piece Dining Table Set with Bench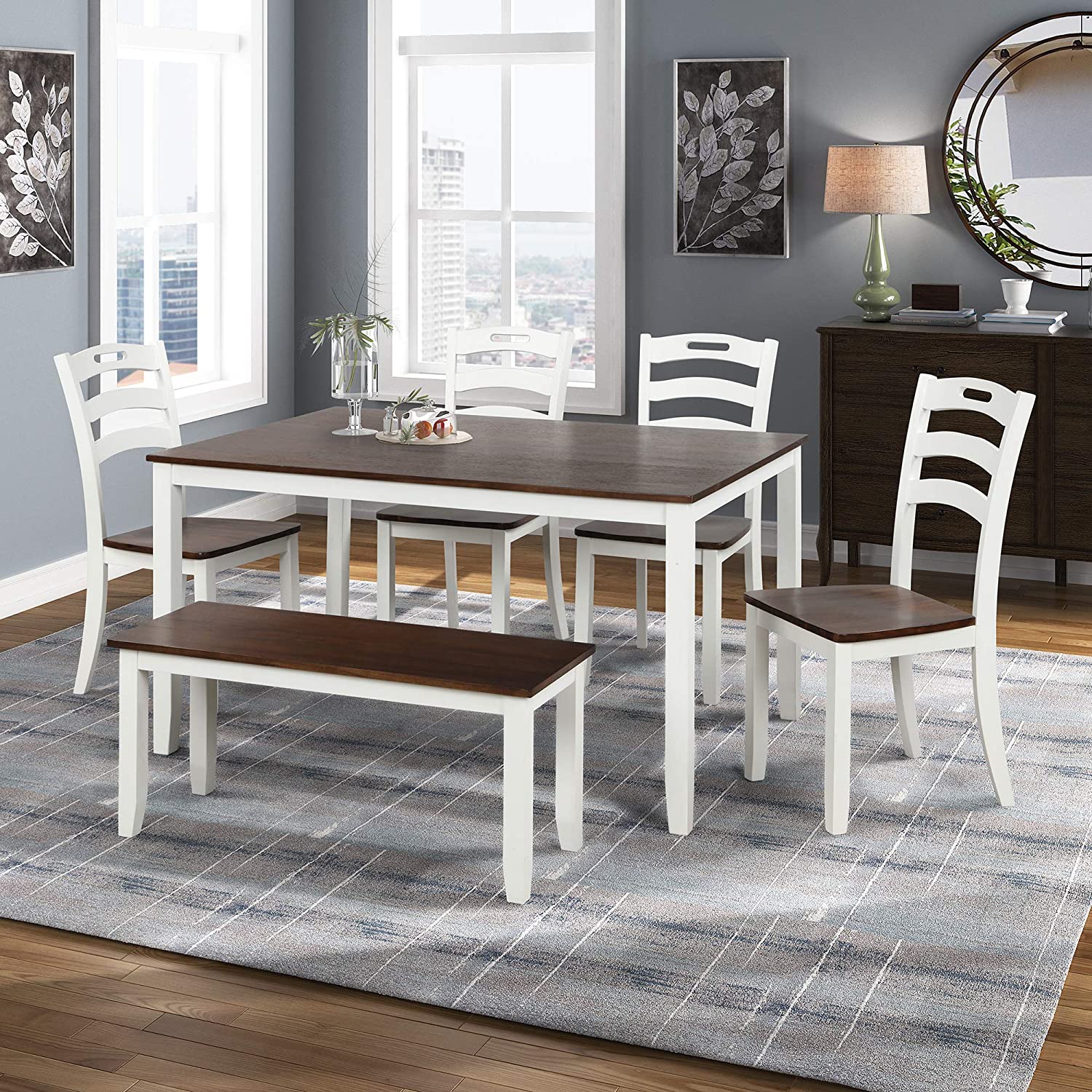 Gracing your home with its dual-tone appearance, i.e., ivory white and subtle cherry. It looks absolutely ravishing when placed in a space. More so if you have a carpet complimenting the colors of this lovely piece. A 6 piece dining kitchen table with a bench and chair is modern and have a simplistic silhouette to go with almost every home decor. Coming with chairs, you get the extra flexibility of arranging the space as you like. It comes with a waterproofed surface which will protect this lavish piece from unintended spills.
This dining table is made up of strong acacia wood and MDF board, ensuring long life, while the benches are constructed with solid rubber wood. This light color furniture will suit light walls perfectly and will elevate your dining experience with its presence.
17. Best Choice Products 6-Piece Dining Set with Bench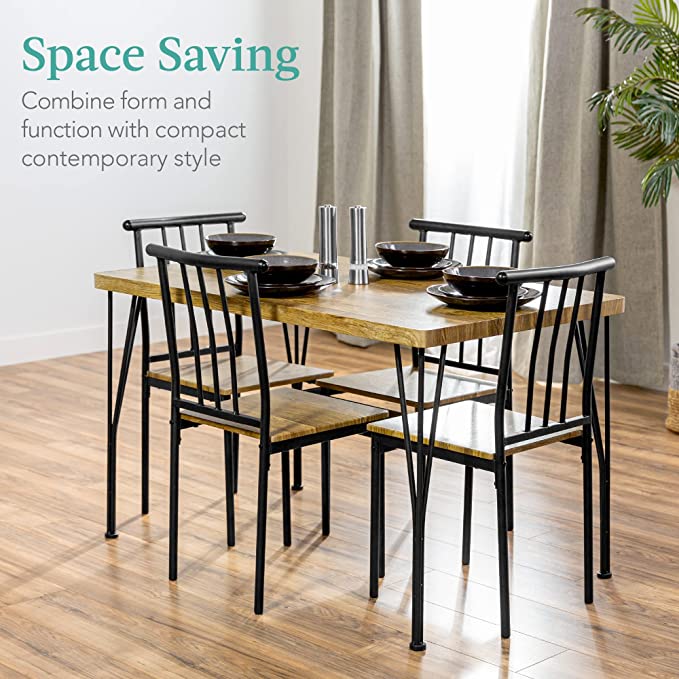 A simple, modern, stylish dining set is a perfect blend of elegance and functionality that will elevate your home decor. It is crafted with beautifully finished composite wood and a sleek metal frame. The set exudes a contemporary charm that acts as a stunning centerpiece for any space. This dining kitchen table is designed to accommodate up to four people. This dining set is perfectly sized for the kitchen or any dining area. The spacious rectangular table top provides ample room for enjoying a delicious meal, working on your laptop, or engaging in lively game nights with friends and family.
Not only does this set offer style and comfort, but it also prioritizes practicality. The metal frame, along with the wood seats and tabletop, make cleaning a breeze, allowing you to wipe away spills and messes without any hassles quickly. For space-saving convenience, the chairs effortlessly slide under the table, creating a tidy and organized atmosphere. Experience the perfect combination of modern style, functionality, and convenience with this set. Add a touch of sophistication to your home today.
18. ACME Furniture Forbes Dining Table Set with Bench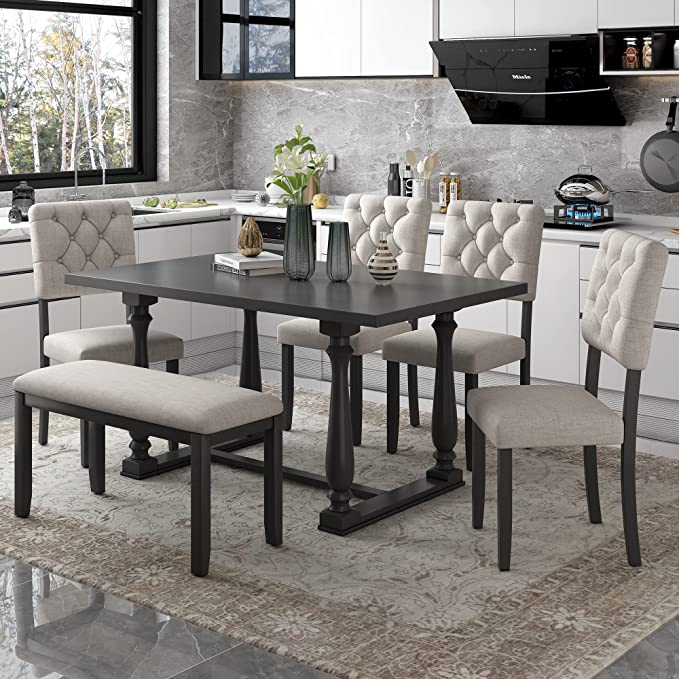 It is crafted with high-quality Melaleuca material, and the table's sturdy legs ensure a long-lasting life. The thick planks of the table top enhance its load capacity, while the wear-resistant veneers wood protect it from daily wear and tear. Additionally, the large surface of the table's bottom safeguards your precious floors. This family dining room set is designed to comfortably accommodate six people, making it perfect for gatherings with loved ones. The practical and compact design fits into any space while providing ample room for fruit bowls, vases, candles, and more, without feeling crowded.
Enjoy supreme comfort with the thick sponge-covered backrest and cushion, providing a delightful sitting experience. The tufted button details on the chair back add a touch of sophistication, while the durable Melaleuca legs ensure stability. The table can hold up to 220 pounds, while each chair has a weight capacity of 250 pounds. Embrace durability, style, and comfort while creating lasting memories with your loved ones.
19. Walker Edison Furniture Company 6-Piece Dining Set with Bench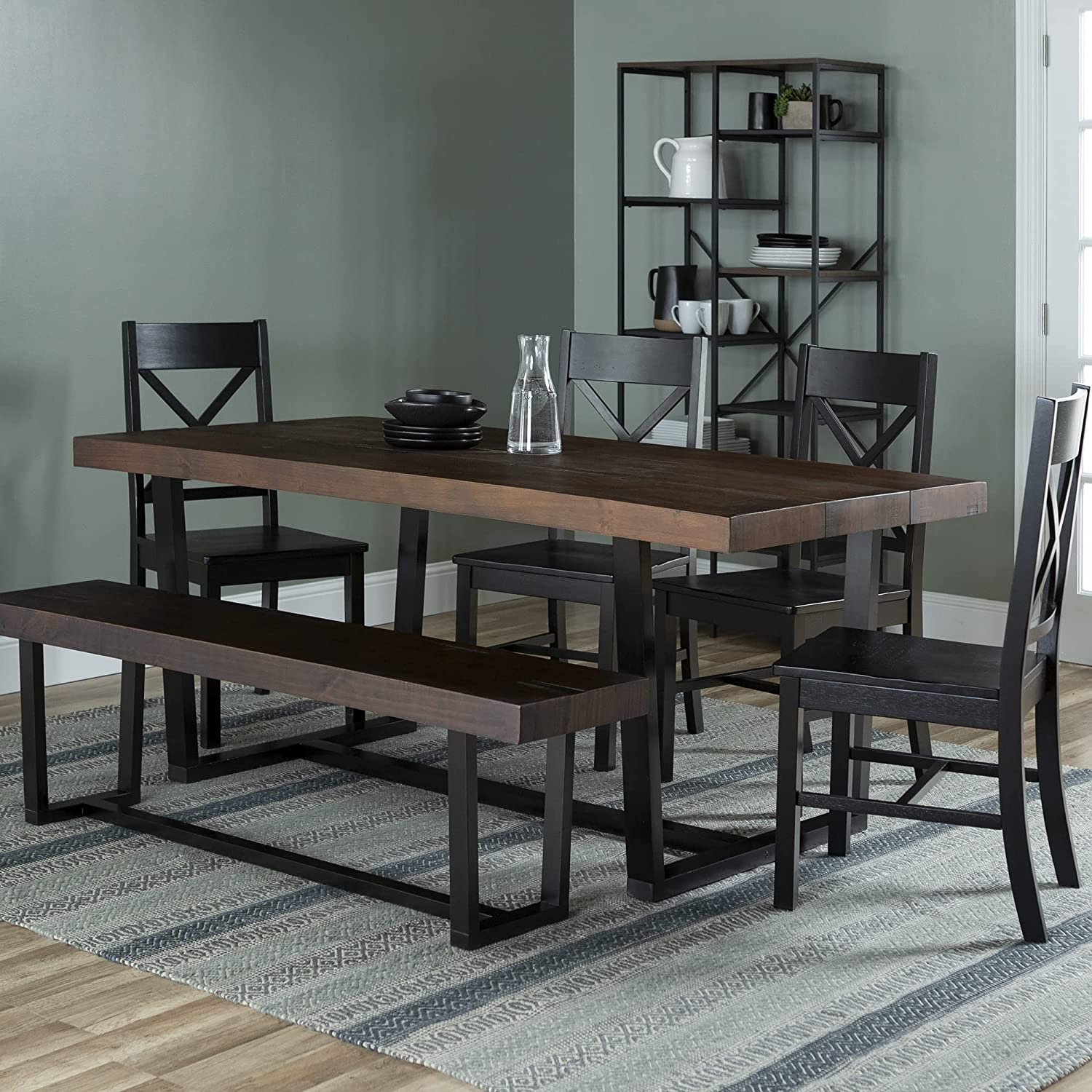 This dining kitchen table is constructed with high-quality materials, including warp-resistant MDF, solid pine, and wood veneer. This set is designed to withstand the test of time. With its attractive two-tone design in mahogany and black, this dining set effortlessly combines rustic and modern farmhouse aesthetics, making it a stylish addition to any kitchen or dining room. The wood used in this set is responsibly harvested from renewable resources, ensuring an eco-friendly choice for your home. It gives you the mental satisfaction that no trees were harmed in making your dining table.
The set includes a spacious dining table, four X-back chairs, and a bench, providing ample seating for your family and guests. Whether it's a cozy family dinner or a lively gathering, this versatile set caters to your dining needs. Walker Edison's commitment to quality and design shines through in this carefully crafted dining set. Embrace the warmth and charm of the Barnes collection, and create lasting memories around this inviting dining piece.
20. Rory 5-Piece Dining Set Multi Color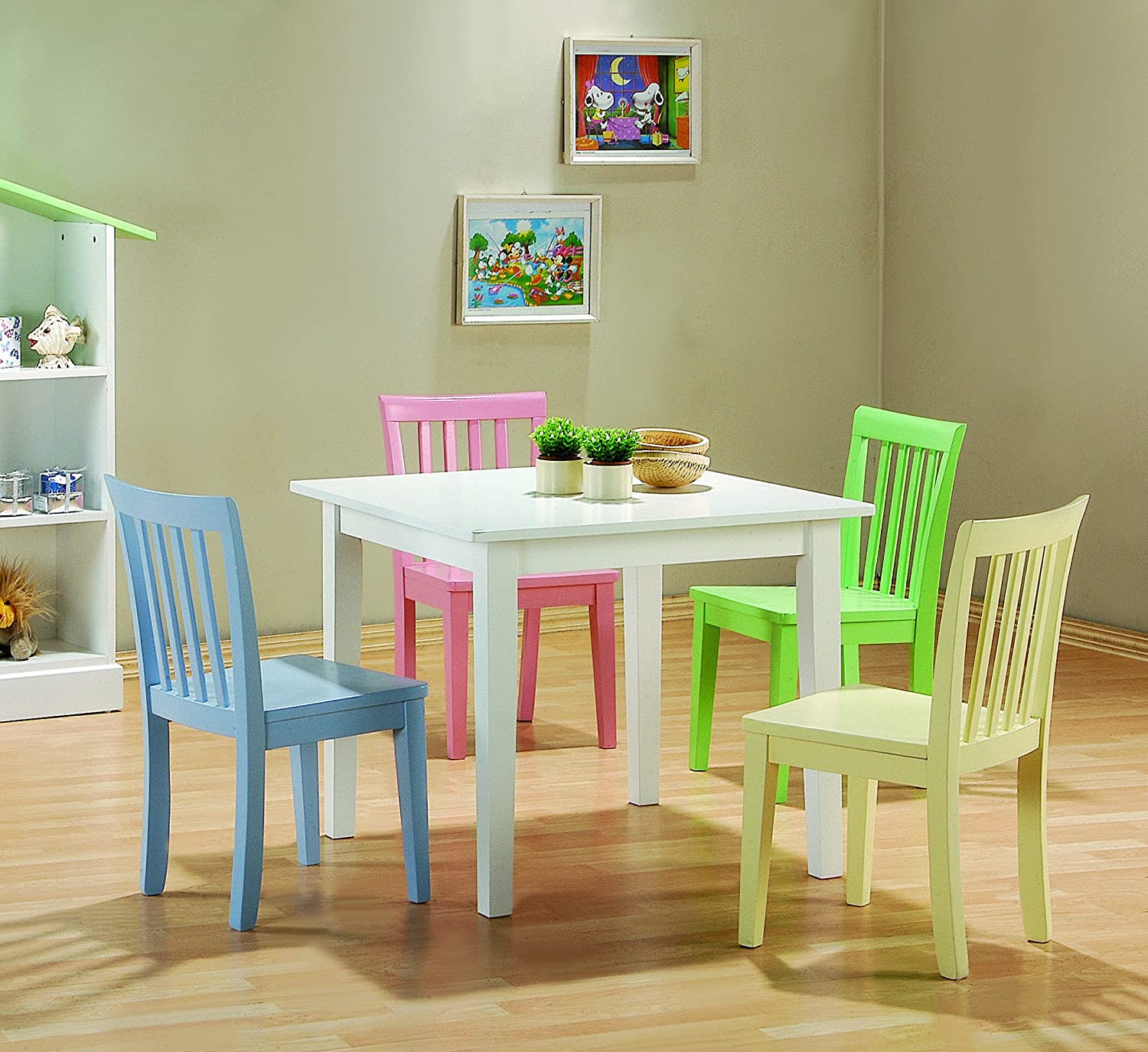 We have something for kids as well in our exhaustive list of dining sets. It is a 5-Piece Kids' Table and Chairs Set, a perfect addition to any playroom or children's space for your children to enjoy. This set includes one charming table finished in white, accompanied by four vibrant chairs in blue, pink, green, and yellow. It is made up with utmost love and care, constructed using durable rubberwood and tropical hardwoods. This set is built to withstand active play and provide a safe and comfortable seating experience for your little ones in the family.
Assembly is a breeze, ensuring that you can quickly set up this adorable set for your children to enjoy. With a weight limit of 200 pounds for the table and 100 pounds for each chair, you can be confident in its sturdiness and durability. The vibrant colors and comfortable seating make this set both functional and visually appealing. It's a delightful addition to any child's space, providing a fun and inviting atmosphere for endless hours of enjoyment.
Sale
Rory 5-Piece Dining Set Multi Color
Includes: One (1) table and four (4) chairs
Table finished in white with four chairs in blue, pink, green, and yellow
Materials: Rubberwood and tropical hardwoods
Weight Limit: 200 pounds (table), 100 pounds (chair)
Assembly Required: Yes
Summing It Up
You have just gone through the most exhaustive list of dining kitchen tables with benches and chairs. Remember that choosing furniture is not an everyday investment, so its crucial to consider all the factors and make a wise choice. When it comes to buying a perfect dining table, there are many options available, as we have already seen. However, the best one for you depends on your requirements, budgets, needs, and so on.
The above list has Amazon links attached to it for your convenience. The list above is versatile enough, and we are sure that one of the above items is sure to set your heart ablaze. But have you wondered why having a dining table is so important? Having a dedicated space to eat with family is a worthy investment, as it leads to more strong bonds, increased communication among family members and creates a loving and open environment at your home.
So invest in a dining table that you feel can make your meals thousand times tastier!
Frequently Asked Questions
Which Type of Dining Table Is the Best?
For instance, How many people will normally use the dining table? This will help you figure out what table size you should go for! What shape to get; round, oval, or rectangular? We suggest an oval shape if your space allows it, simply because all the space in the oval table is useful. In the rectangular tables, corners are mostly left unutilized. What should be the wood color or decor of the table? This should depend on the already existing furniture decor at your home. Your new kitchen table with a bench should blend in with other furniture and not stand out.
What Is the Advantage of a Dining Bench?
There are several advantages you might miss if you choose chairs over a bench for your dining table. Benches are more economical space, i.e., they can accommodate more people while occupying less space than chairs.
In addition to this, they are easy to organize and more comforting, and you will not feel restricted in your movements which can be the case if you opt for chairs for your dining bench.
Which Is Better: a Bench or a Chair?
Benches and chairs both have some advantages and disadvantages. For instance, the portability, which is offered by a chair to carry it around if you need extra seating, is possible quite easily. On the other hand, benches are difficult to move around since they are heavier than chairs. If you are planning to have a dining table and you think you will not require the flexibility of a chair, then surely go ahead with it. Benches are great as they are easy to organize and look aesthetically pleasing.