Is your garage going to waste, just gathering dust and clutter without being used to its full potential? If so, you might want to consider converting it into a functional living space.
Not only will this provide you with extra space that you can use for a variety of purposes, but it is also a smart investment that can increase the value of your property. With some creativity and effort, you can convert a garage into a multifunctional unit.
In this article, 20 outstanding ideas are collected to convert your garage into a useful space that meets your unique needs.
Whether you need a home office, a gym, or even a cozy guest suite, there are plenty of creative ways to transform your garage.
So, let's dive in and explore some of the best garage conversion ideas out here!
1. Home Office
Whether you are a freelancer, artist, writer, or someone who needs a dedicated workspace at home, converting your garage into an office can be a splendid solution. A converted garage can be an ideal home office if you plan to work from home permanently or part-time. Creating a comfortable and efficient workspace in a garage can be a challenge, especially if the space is limited. Here's how you can give it a quick makeover:
Take a good look at your space, remove any unnecessary items, and decide what you need to keep and what you can let go of.
Considering your comfort, you need to ensure proper heating and cooling, so invest in a portable space heater and air conditioner.
You might have to invest in a wired internet connection, Wi-Fi extenders, or portable hotspot if the connection is weak.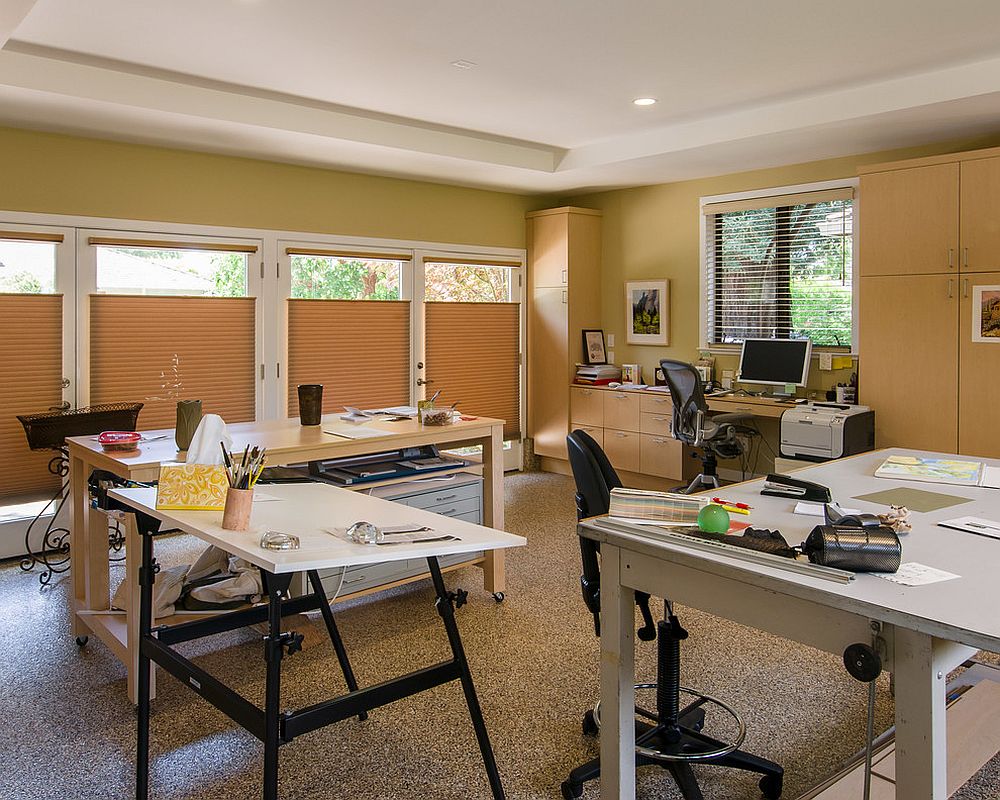 2. Guest House
If you find it difficult to convince your friends or relatives to stay at your place instead of a guest quarter, then how about converting your garage into a beautiful retreat for them? Garage conversions are a great option for accommodating guests as they are typically separate from the main house and provide a more peaceful environment and privacy. Let's have a look at how you can proceed with it-
First of all, you need to think about heating or cooling needs, ventilation, windows, and flooring.
After that, get on the doors. You can't go along with previous old doors. You can either use French doors or can get them painted.
Feature a wall, add some accessories, and throw some soft rugs to upscale the guest house.
You can complete your guest house with a kitchenette, dining area, living room, and bedroom.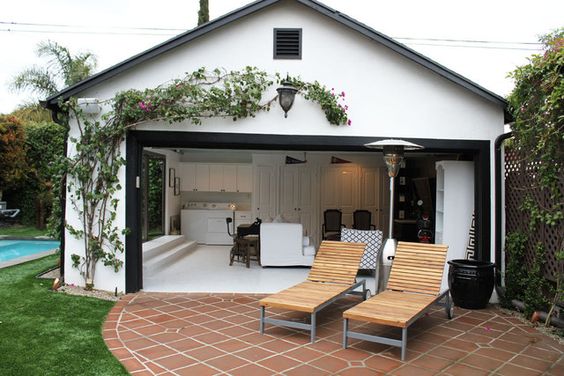 3. Kitchen
Converting your garage into a kitchen is a great way to upscale your living space and create a more functional home. By doing so, you can create a spacious kitchen that is enough for socializing, cooking, dining, and entertaining with a large kitchen island or family table. Instead of moving, you can explore the potential of the existing garage space, refigure it, knock down the walls, and open up the space to create your dream kitchen. Wondering how to start with it? Here you go –
Keeping in mind your needs, plan a layout for the new kitchen which can be easily designed and functional both.
Consider the plumbing and electrical needs, add new appliances, and check the ventilations, drain pipes, and water pipes too.
Add green plants for freshness and plan the proper placement of your crockery and cutlery display alongside.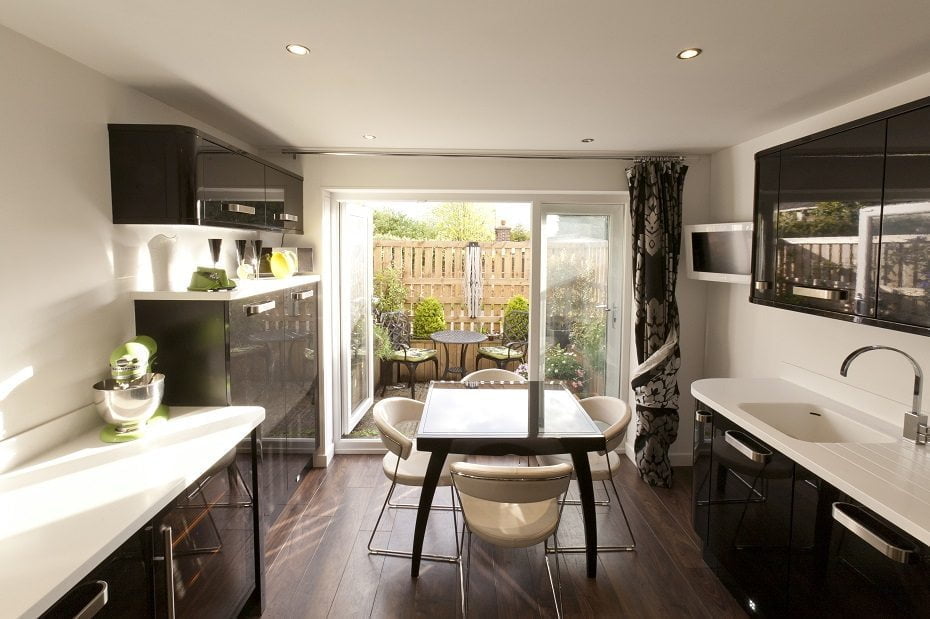 4. Home Gym
In today's busy world, it can be challenging to stay in shape as we often find ourselves short on time. Going to the gym regularly can also be difficult. To solve these problems, consider transforming your old garage into a home gym rather than trying to squeeze a gym session into your already packed schedule. This will save you time and money, as well as reduce your stress levels. Make it a fully functioning fitness studio that is loaded with stylish design, creative storage, and top-of-the-line equipment. Convert your garage into a stylish home gym with these tips:
Cover the cracked cement flooring and use peel-and-stick polyester fiber floor tiles or epoxy flooring.
Use enough lights and make storage space for smaller workout equipment.
Style your space with faux plants, white-washed baskets, and other accessories throughout.
Add floor-length mirrors for a refined and modern look.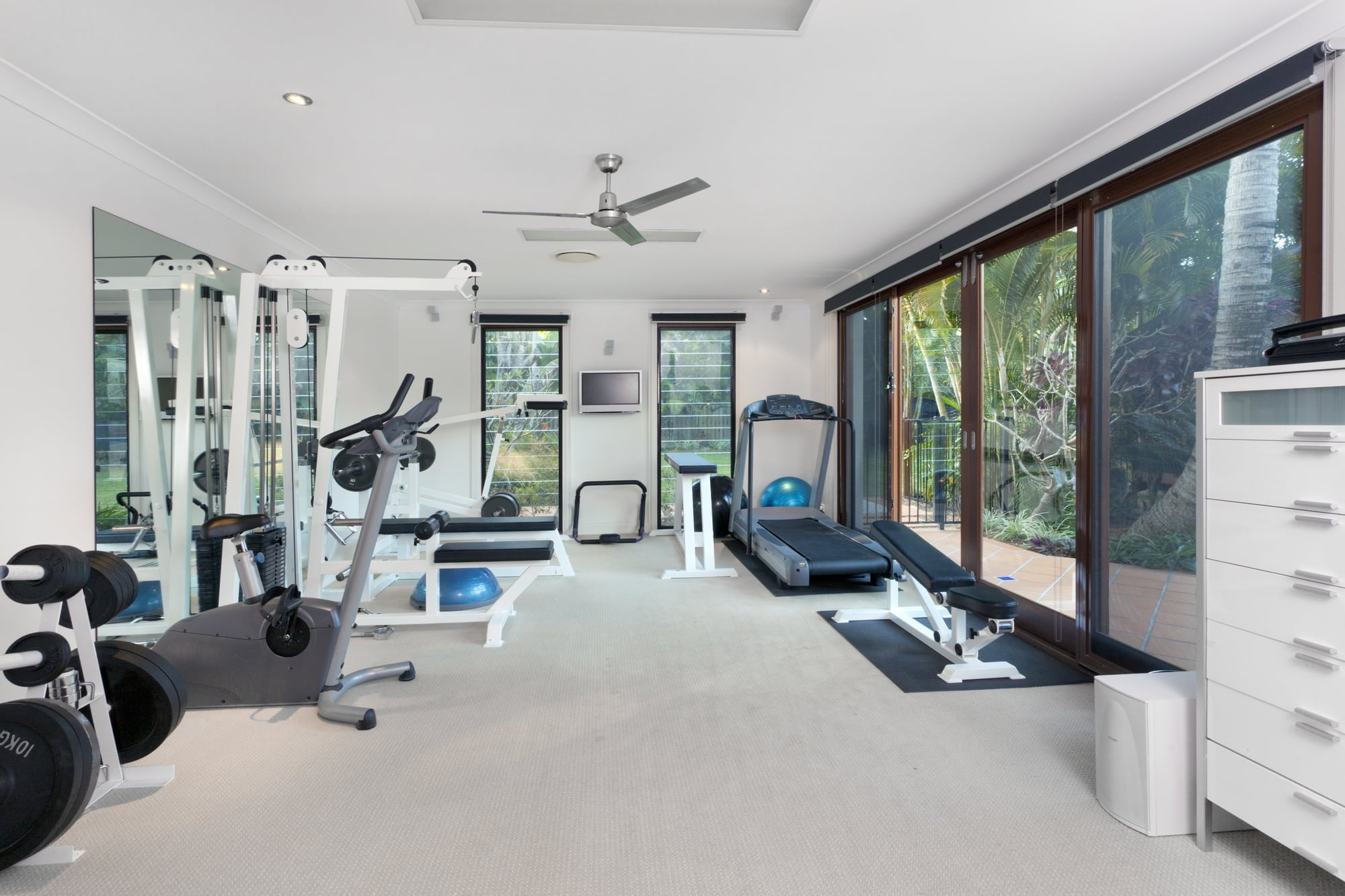 5. Art Studio
Art reduces stress, inspires creativity, and increases empathy. Transform your garage into an art studio to experience these benefits. It's a great way to repurpose the underutilized space and create a unique, inspiring workspace for your artistic pursuits. Take note of ideas for this fun and rewarding project:
Determine how you want to use the space and create a plan for the layout.
Consider factors such as lighting, storage, and ventilation.
Depending on the condition of the garage floor, there might be a need to install a new flooring option that is durable and easy to clean.
You can elevate the interiors with simple changes such as adding storage, hanging artwork, and leaving the ceiling beams and electrical lines exposed.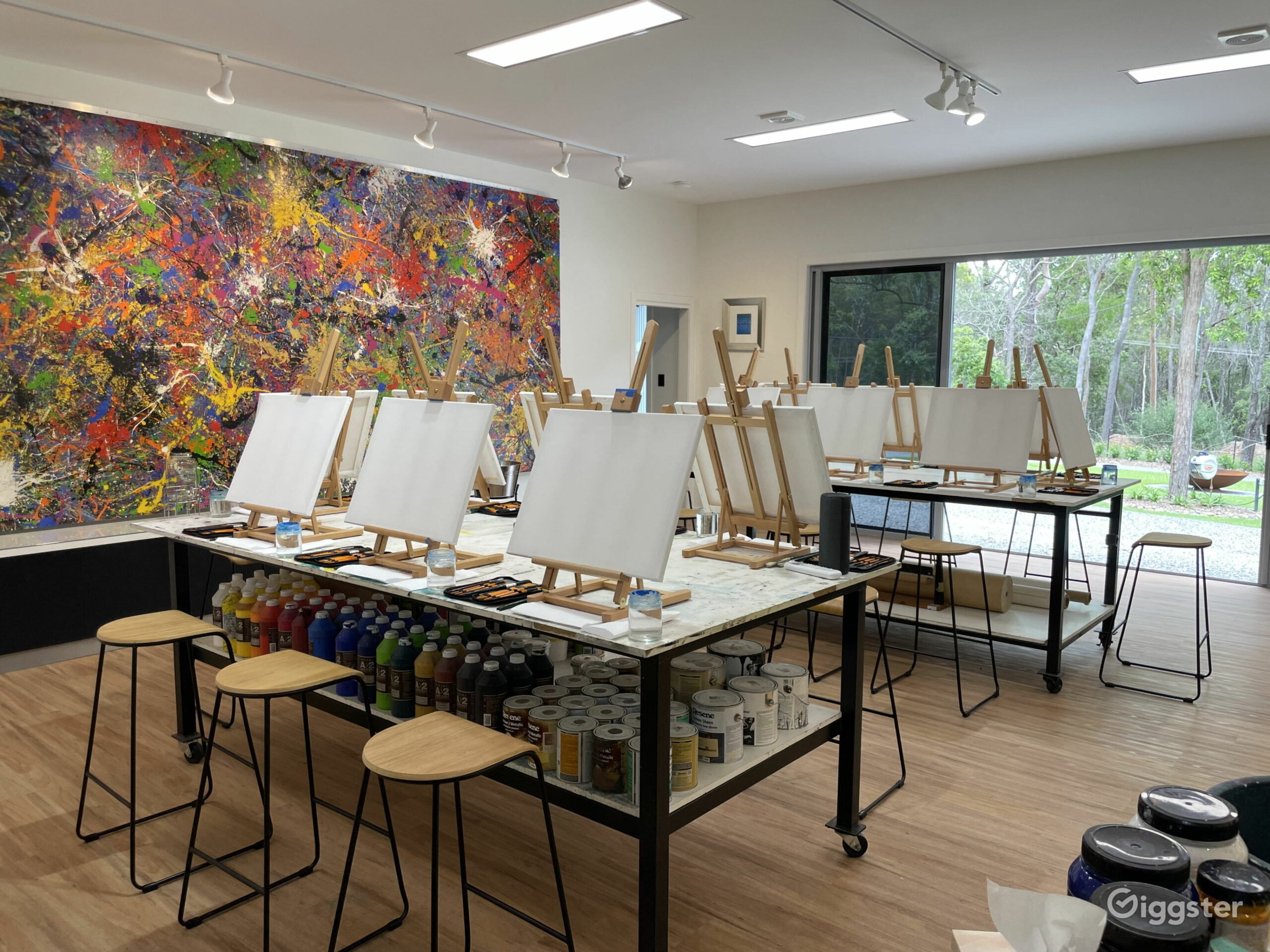 6. Play Area For Kids
If you are a parent looking for ways to keep your kids entertained, consider converting your garage into an amazing play area. Create a dedicated playroom for your kids to encourage their exploration and playtime. To creatively transform your garage, you can turn it into the ultimate play area that your kids will love and enjoy! There are many factors that can contribute to making this transformation a success.
Some great ideas to include in this space are a climbing wall, cozy reading nooks, designated homework stations, and game tables.
Consider adding plenty of built-in storage options for toys to keep the space organized and clutter-free.
If you have a spacious area, you can have indoor swings and play sets too.
Ensure proper lights and ventilation for kids to enjoy their time.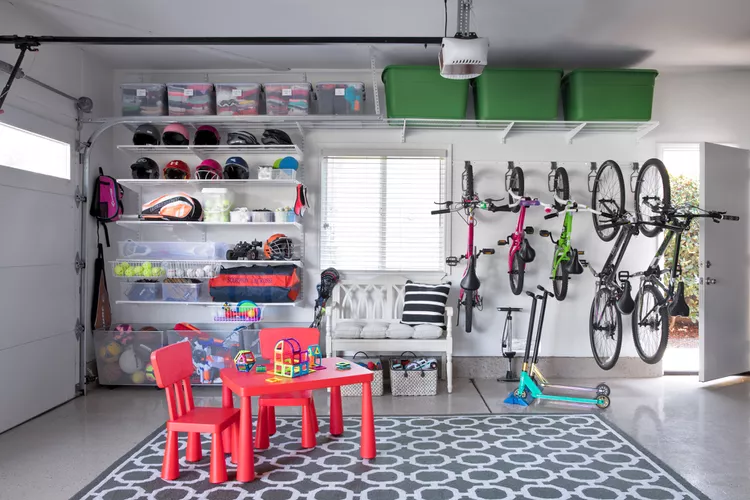 7. Home Theatre
Everyone loves to relax and unwind by watching a good movie, don't they? It's a perfect way to relax and take a break from the hustle and bustle of daily life. Imagine having your cinema at home, where you can invite your friends over for a movie night. If you are a film enthusiast and have a garage that's just taking up space, why not transform it into your private theatre? Here are some ideas to inspire you to create your screening room at home:
You will need a big screen, high-quality sound equipment, some comfortable seating options like armchairs or a cozy sofa, and of course, popcorn!
If your garage has any windows, keep them covered with a blackout curtain or similar window covering.
Add finishing touches such as colorful artwork, movie posters, and themed decor to give the theatre a unique personality.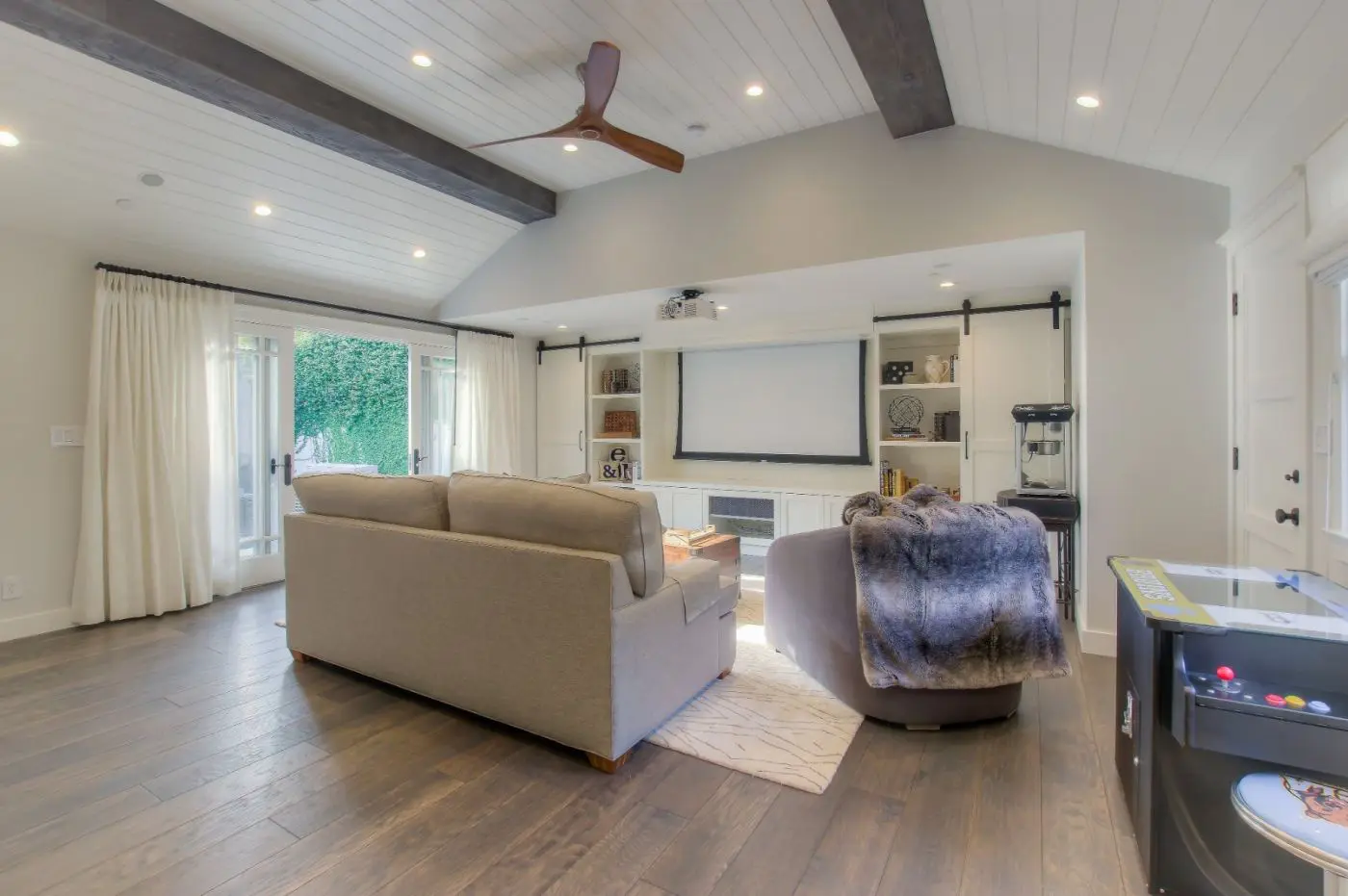 8. Bar and Lounge
Why should garages lose their identity completely, right? After all, who said that they couldn't have their own unique style and personality? Converting a garage into a bar and lounge is an exciting way to repurpose the space. That is how you can create a stylish and comfortable space to relax, entertain guests, and enjoy your favorite drinks.
Determine the best layout for the space, including the placement of the bar, seating, and any additional features you want to include, such as a pool table or dart board.
Choose lighting fixtures that create the perfect ambiance for your bar and lounge. Consider installing dimmable lights for maximum flexibility.
Comfortable seating is a must for a bar and lounge. Choose chairs or stools that are stylish and comfortable.
If you're planning to add a sink or wet bar to your garage, you'll need to make arrangements for plumbing as well.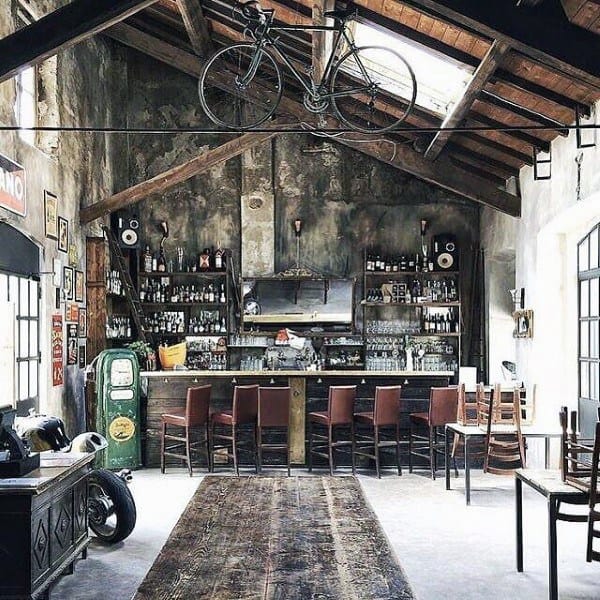 9. Utility Room
Converting your single-car garage into a stunning laundry room and utility space is another impressive transformation. Garage-based washer and dryer hookups have been around for ages. Are you searching for a laundry room that can cater to all your cleaning and drying needs while making this chore less of a hassle? It's time to step up your game and transform your laundry room into a functional and enjoyable space. Here are some ideas to get started:
Check for any structural issues, assess the electrical and plumbing requirements, and consider if there is enough space for a washer, dryer, and any additional storage you may need.
Adequate ventilation is crucial for a laundry room to avoid excess moisture.
Plan for storage cabinets and shelves to keep your laundry supplies organized and easy to access.
Make sure to measure the space and choose appliances that fit comfortably.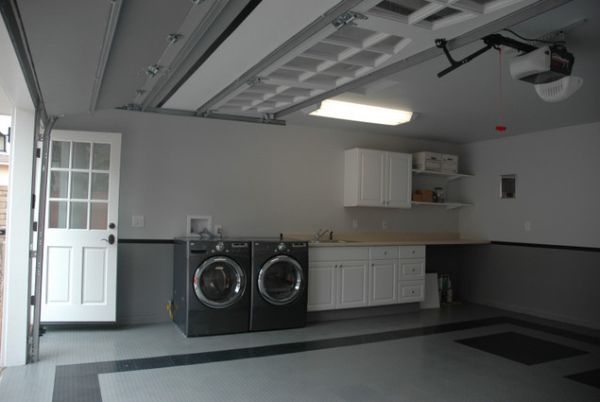 10. Luxurious Bathroom
Garage conversions offer a fantastic chance to expand your home and add an extra bathroom, be it a cozy half bath or a spacious, luxurious bathroom retreat. However, if you are thinking of incorporating a bathroom into your garage renovation, there are a few things to keep in mind.
Check out where you want your sink, bathtub, shower, and toilet to be placed.
Consider features such as a freestanding bathtub, a rainfall showerhead, marble or granite countertops, and luxury tile or flooring.
Hire a professional plumber and electrician to install all necessary plumbing and electrical work.
Finally, add finishing touches such as plush towels, scented candles, and decorative elements to create a spa-like atmosphere.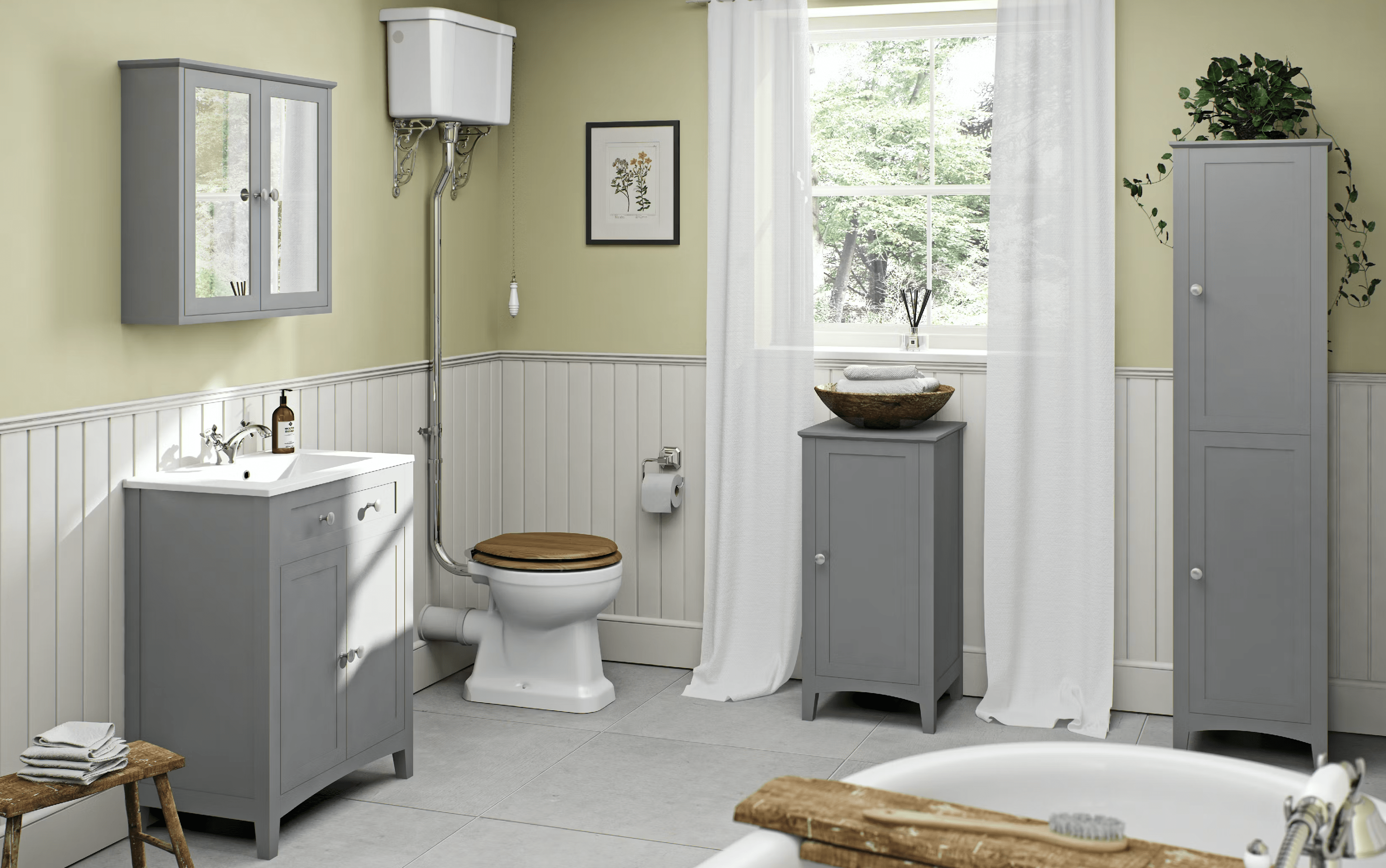 11. Pet's Room
Treat your pets to some luxury by converting your garage! For your furry best friend, create a comfortable dog lounge area by installing a door for easy access to the backyard. Remember to keep your feline friends in mind too! You can turn your garage into an exciting playscape for them by adding wall-mounted shelves and a litter box. This will also help keep your home smelling fresh and clean. Some tips to help you out:
Choose pet-friendly flooring such as epoxy or rubber, which is easy to clean and resistant to scratches.
Add features like a pet door, a designated play area, and comfortable beds to make your pets feel at home.
Choose durable and easy-to-clean materials for your walls, such as tiles or painted concrete.
Add decorative elements such as a mural, pet-themed artwork, or toys to create a fun and inviting space for your pets.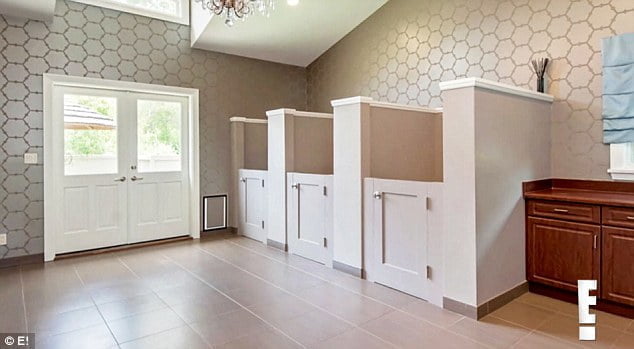 12. Backyard Workshop / DIY Room
Individuals who enjoy engaging in DIY projects or pursue crafting as a part-time activity would highly value possessing their workshop. Behold the miraculous transformation of a cluttered single-car garage into a bright and inviting workspace. Consider these ideas to create a dedicated area for your crafting or woodworking projects:
Plan your workspace layout, including the placement of workbenches, tool storage, and shelving. Custom-built storage solutions can optimize your space.
Inspect the walls, ceiling, and flooring for any signs of damage. Make any necessary repairs.
Install overhead lighting and task lighting to ensure that you have adequate illumination.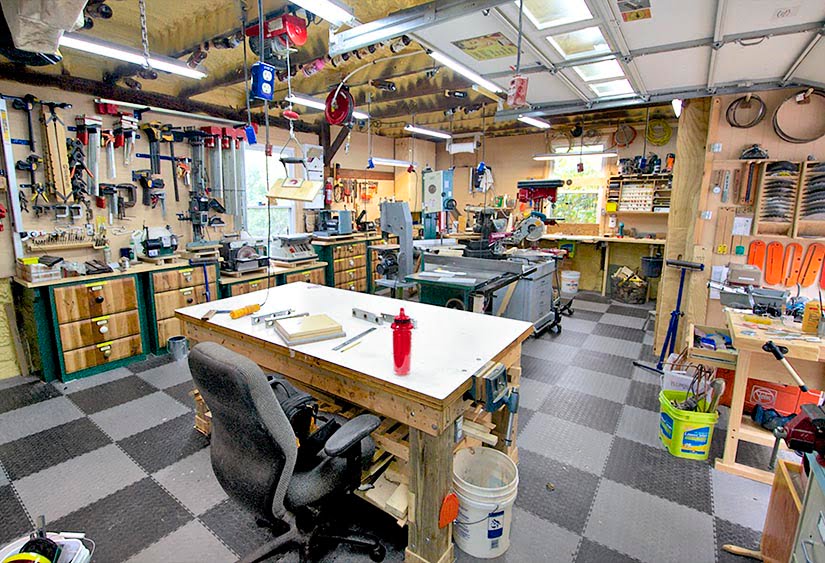 13. Study Room
If you are planning on renovating your home and working from home or need a quiet space to study, converting your garage into a study room can be an affordable and practical way to create more living space without any addition. Consider these ideas while converting your garage into a study room:
Plan the layout of your study room, including where you want to place your desk, bookshelves, and other furniture.
Garages are typically not insulated, so you may want to add insulation to the walls to make the space more comfortable and energy-efficient.
Consider adding built-in bookshelves or other storage solutions to keep your study room organized and clutter-free.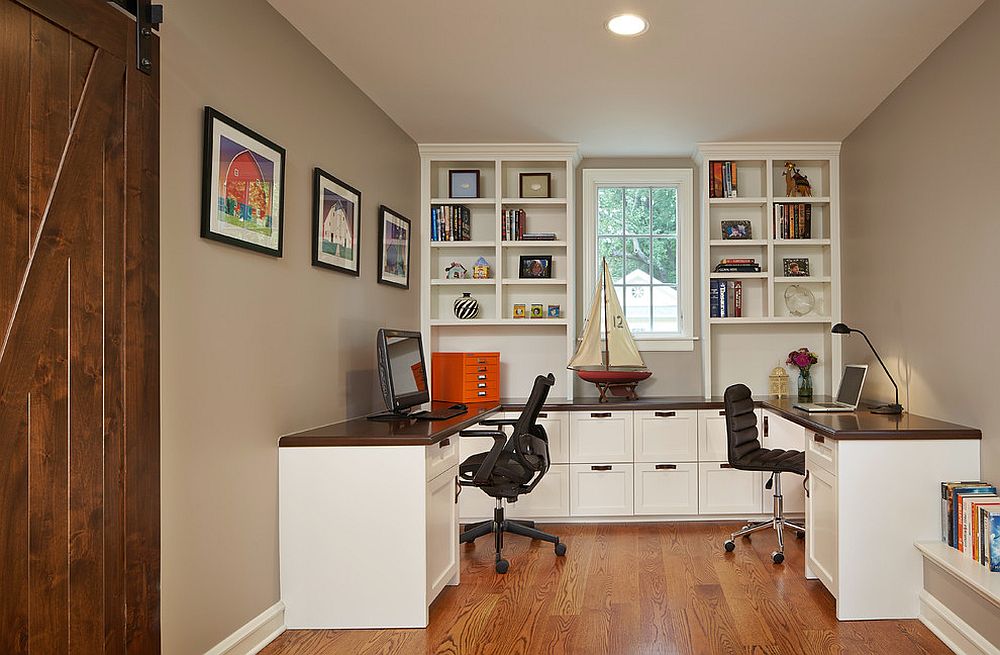 14. Outdoor Terrace
Thinking about renovating your garage? Why not knock down a wall and create an outdoor terrace that you can enjoy during the beautiful spring or fall days? It's a great way to make the most of your space and enjoy the great outdoors from the comfort of your own home! Converting a garage into an outdoor terrace requires careful planning and execution. Here are some general steps that can help you through the process:
Before starting any renovation work, assess the condition of the garage's structure to ensure it can support the changes you want to make.
Add outdoor furniture, decor, and accessories to create a comfortable and inviting outdoor living space.
Always prioritize safety and ensure to follow all necessary building codes and regulations.
The garage door has to be removed and replaced with a wall or large windows to create the outdoor Terrace.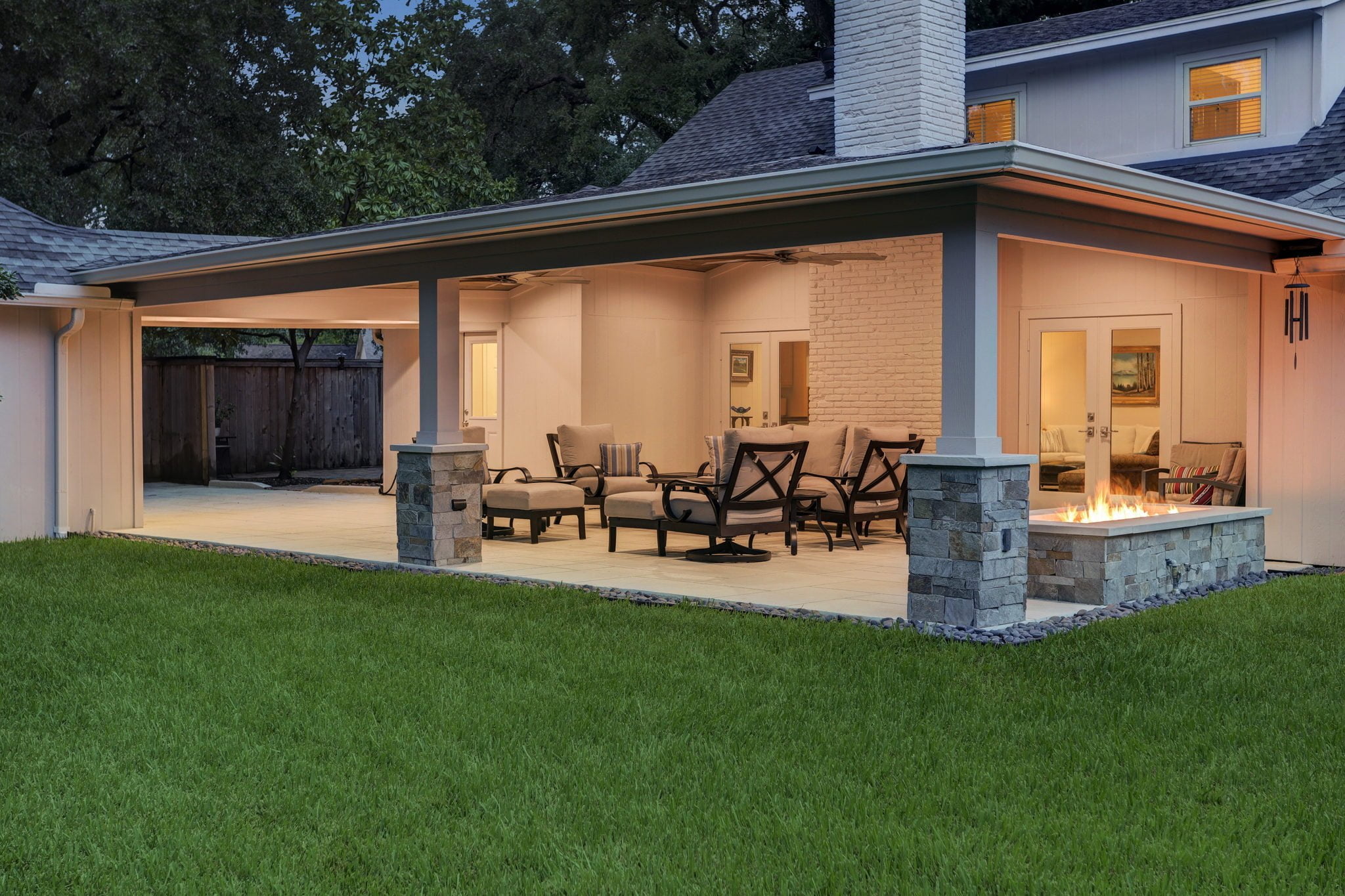 15. Micro Rental Space
Convert your garage into a studio flat to earn extra income or pay off your mortgage. Living in high-density or tourist areas can help you find tenants or weekend visitors. You can rent it out full-time if it has all the necessary amenities. Some general steps to consider:
Do your research and check local zoning ordinances before starting.
Plan the layout and design of your studio apartment, taking into account the necessary amenities such as a kitchen, bathroom, and sleeping area.
To ensure your studio apartment is comfortable and safe, add insulation and ventilation to regulate temperature and airflow.
Furnish and decorate your studio apartment to make it a desirable living space for potential renters.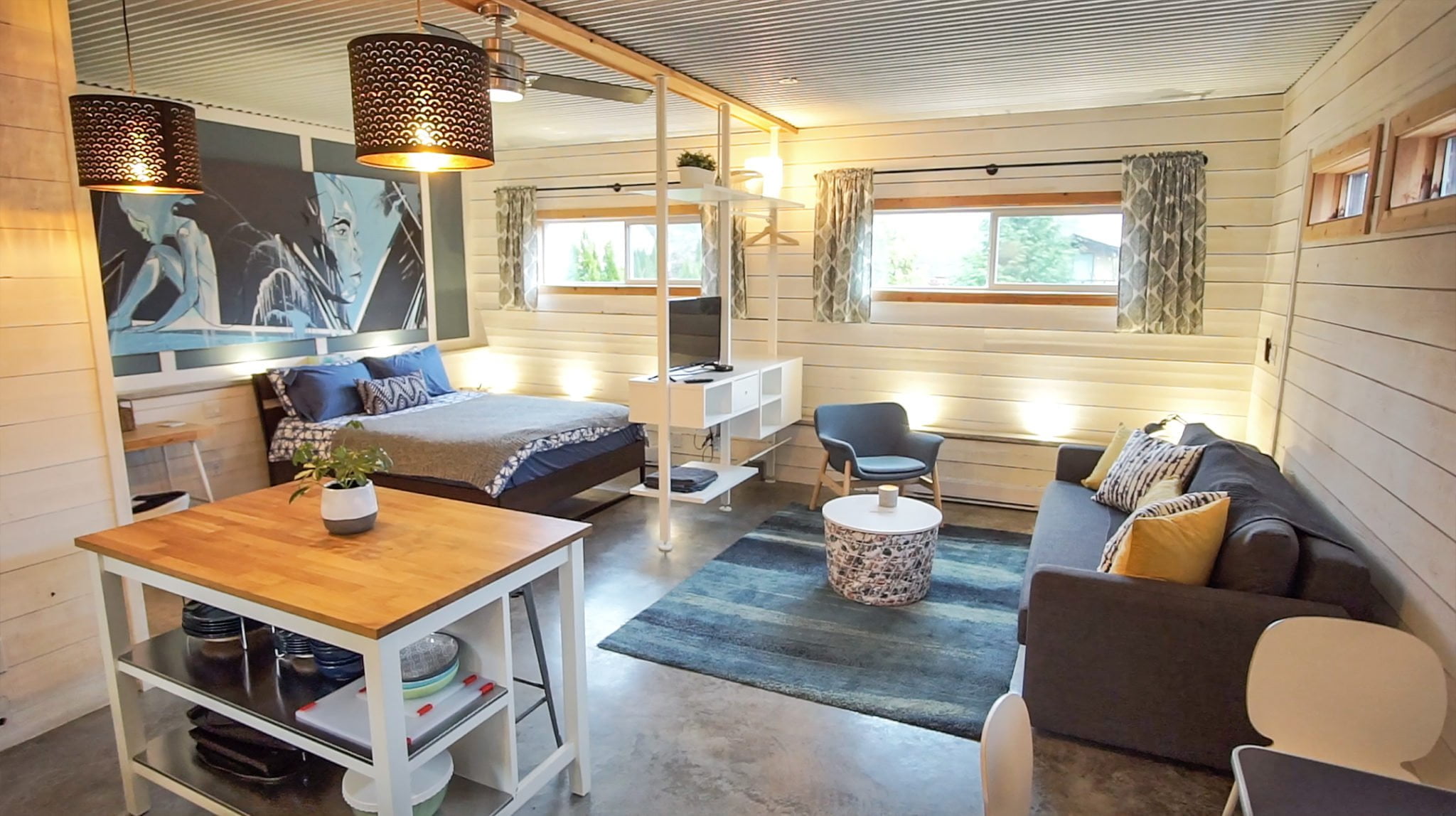 16. Potting Shed And Flower Room
If you have outgrown your garden shed or don't have one, converting your garage into an undercover gardening space can provide the extra space you need to store gardening tools and equipment. This space can protect your plants from the weather, including rain, wind, and extreme temperatures. Keep in mind these points while creating a dedicated space for your hobby:
You can use environment-friendly materials for lining the walls and replace the roof with clear polycarbonate to let in natural light.
Consider adding decorative elements such as artwork, plants, or a comfortable seating area to make the space more inviting.
Make sure to create a budget and do your research before beginning the project.
Additionally, check with your local council to determine if you require any permits or approvals.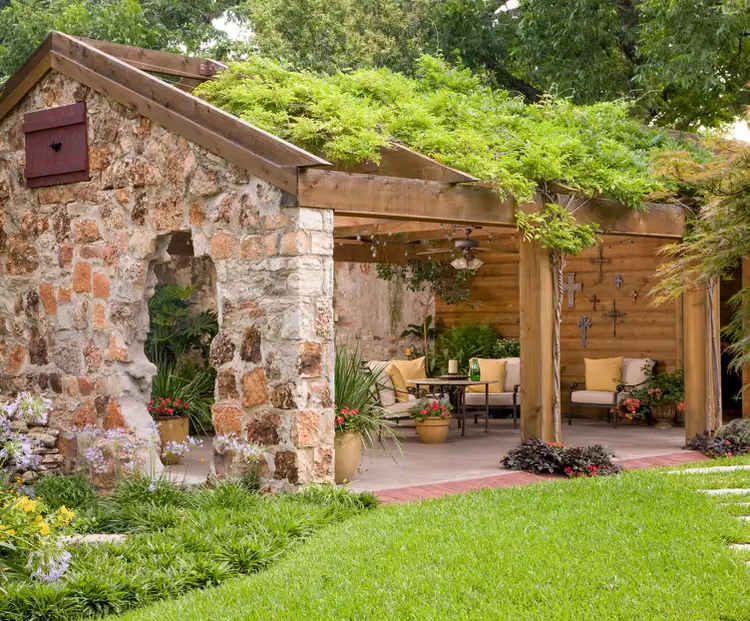 17. Detached Greenhouse
One potential project to consider is converting your garage into a greenhouse. With a few modifications, your detached garage can be an excellent location for a backyard greenhouse. Transforming your garage into a greenhouse is a smart choice since your plants can thrive and benefit from abundant sunlight. All this requires some planning, preparation, and some DIY skills like:
Choose the best area in your garage to set up your greenhouse, preferably where it can receive ample sunlight.
Consider adding shelving, potting benches, and storage to organize your gardening tools and supplies.
Depending on your plant's needs and the climate in your area, you may need to add artificial lighting and heating systems to maintain optimal growing conditions.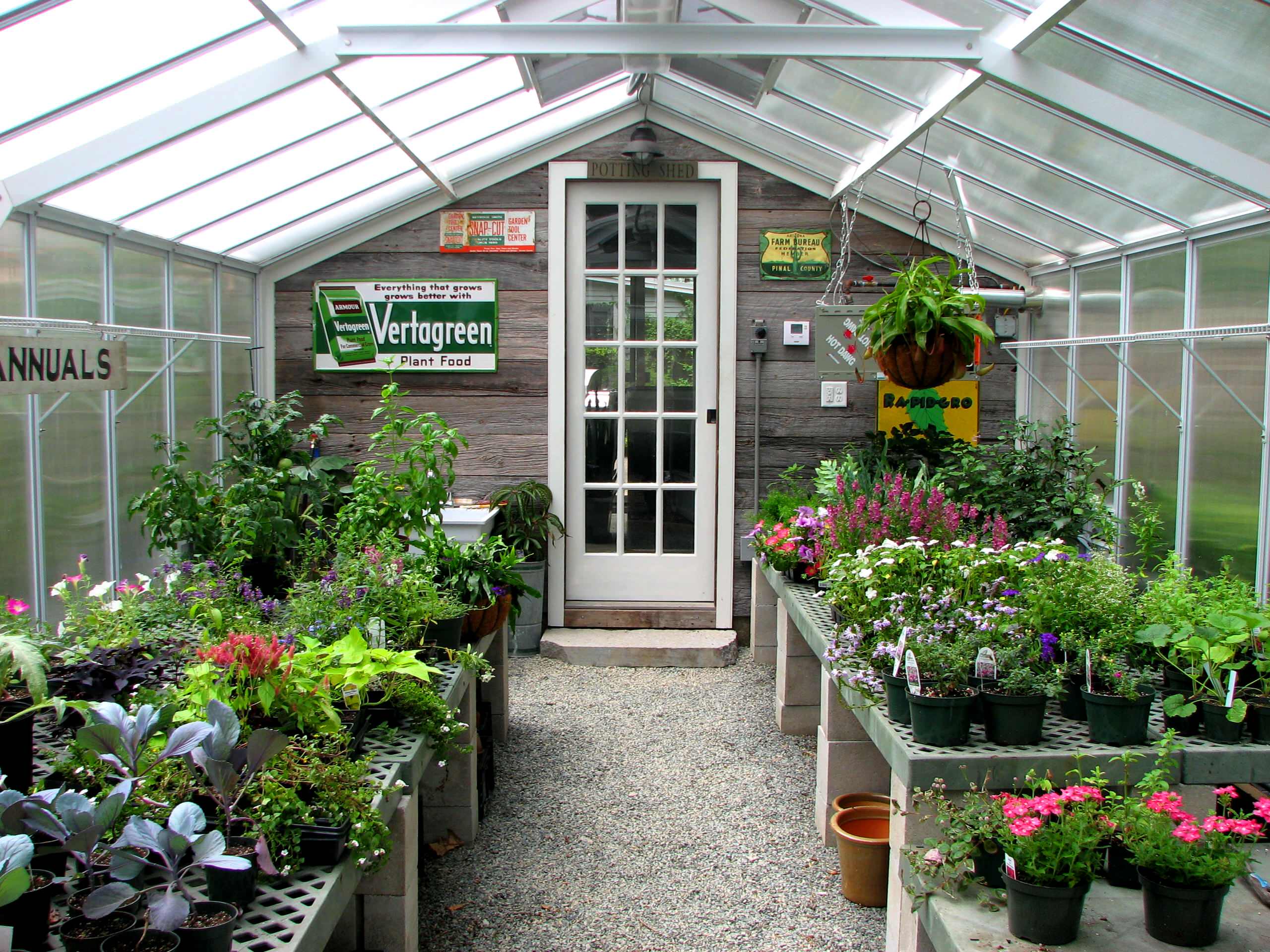 18. Games Den
Garages can provide valuable space for growing families. Integral, attached, or you can convert freestanding garages into game dens and teenage hangouts. This garage den and game room blend entertainment and practicality seamlessly. Some tips and ideas to style your games room:
You can have a handmade bar, a sitting area, a TV, a pool table, and a dartboard.
You will also need to ensure adequate electrical sockets and Wi-Fi provision.
The ambiance of the room can be enhanced by the addition of dark wood paneling and exposed brick to match the garage's bare ceiling beams, creating a warm and inviting atmosphere.
19. Living Room
Converting your garage into a living room can be a great way to add more living space to your home. Adding extra living space to your home can increase its value, making it more appealing to potential buyers if you decide to sell. This is perhaps the most obvious benefit of converting your garage. It can give you more room to relax, entertain guests, or use as a workspace. Here's what you need to consider:
Determine the layout of the living room, including the placement of doors, windows, and built-in features such as shelves and cabinets.
Choose appropriate lighting fixtures.
Furnish the space with comfortable seating options, tables, and other decor items.
Add curtains, rugs, and artwork to complete the look.
20. Two – Storey Loft
Converting your garage into a two-story apartment can be a more extensive renovation project than simply turning it into a living room. It may require more significant modifications, such as adding a second floor, creating separate entrances, and installing plumbing and electrical systems. Some general guidelines to help you out:
Consider factors such as the number of bedrooms, bathrooms, kitchens, and living spaces.
Depending on the existing structure of your garage, you may need to make some significant structural modifications to accommodate the extra living space.
To ensure your two-story apartment is comfortable and quiet, you will need to insulate and soundproof the walls, floors, and ceilings.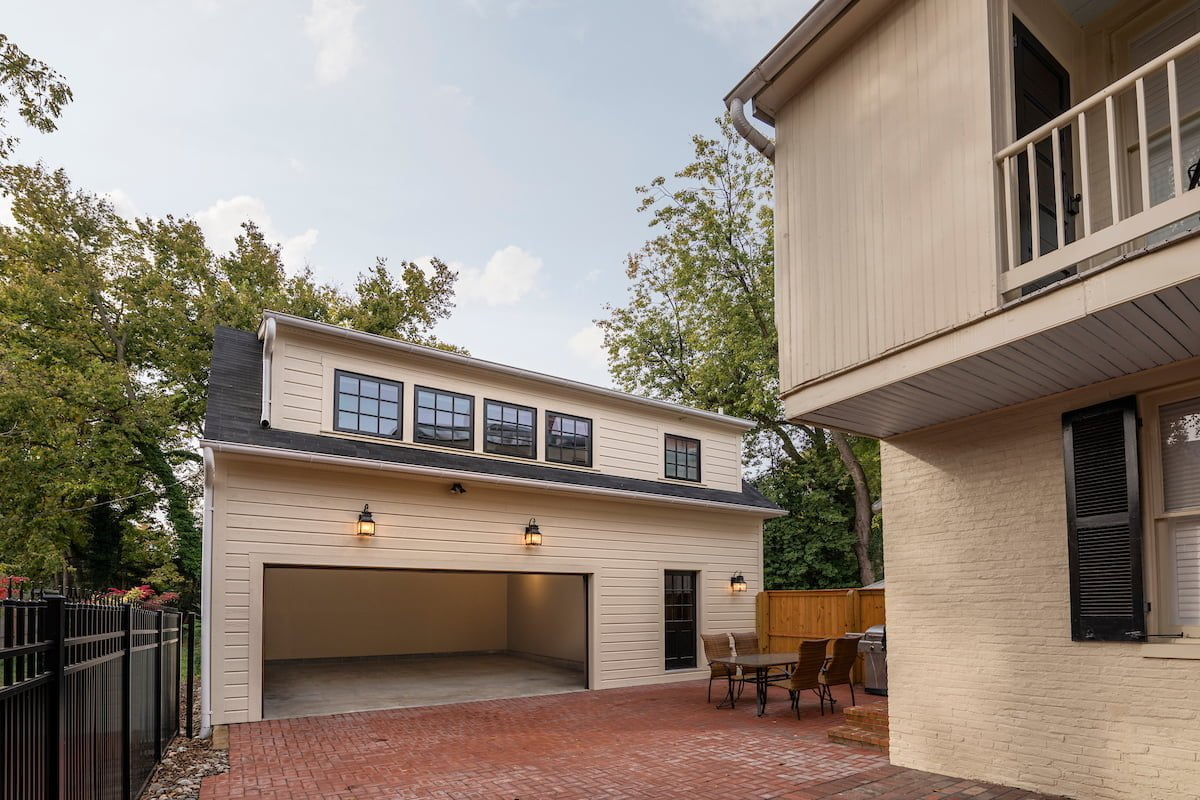 Conclusion
There are numerous ideas available on how you can turn your garage into a functional and comfortable living space. From a home office to a guest suite, gym, or even a music studio, the possibilities are endless.
By taking the time to plan and execute your conversion project properly, you can create a space that meets your specific needs and desires.
So, if you are considering a garage conversion, don't hesitate! Get started today and transform your unused garage into a valuable and enjoyable space for you and your family.