While you can't have all your mornings spent eating fresh croissants and watching scenic views, you can certainly bring that aura to your place. Those rustic but refined French aesthetics, using natural elements, traditional interiors, and a touch of your style, are all you need to turn your kitchen into the charms of the French countryside.
Your kitchen is the most crucial space in your home, and building that dreamy-kitchen idea into a reality wouldn't be that easy. These French kitchens are designed keeping families in mind, where everyone can gather around and eat effortlessly while sharing fun conversations.
To fulfill your desire for the same, some French Country Kitchen theme ideas are listed below to make your every day feel like a vacation in France.
Transform Your Kitchen with These Creative French Country KitchenIdeas
For French Kitchen Ideas, the flooring should be highly durable and eye-pleasing, which also fits your budget. Using warm colors and textures for marble tiles, such as limestone floorings or Tuscany tiles, brings a certain warmth to the place. On top of that, adding certain vintage or antique accessories hanging ceiling lights highlights the kitchen even more.
1. Using Natural Materials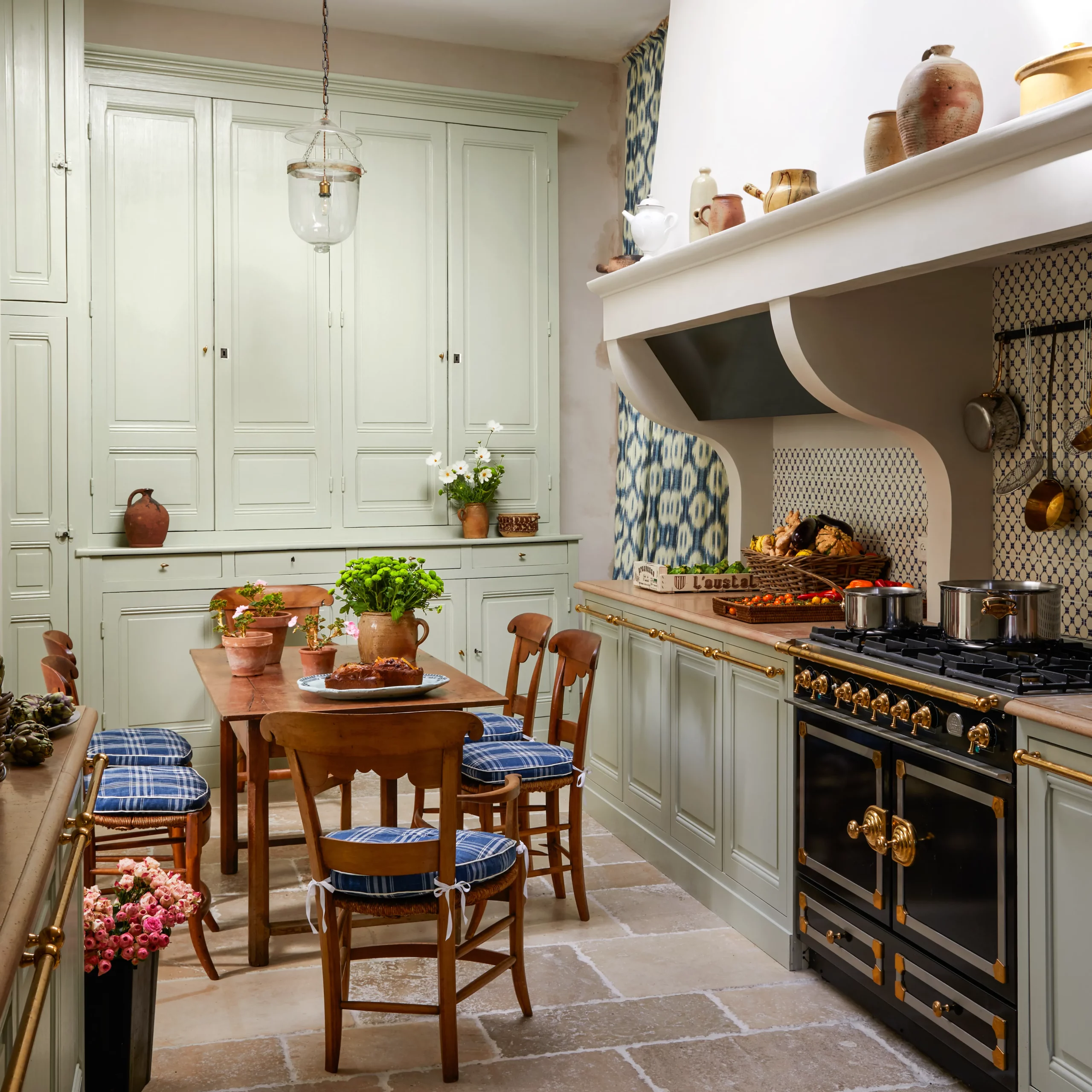 Natural materials are the keystone of French country kitchens, particularly when finalizing countertops. Using reclaimed wood for your table's top provides a rustic appearance, a sturdy base, and a cozy look. Cleaning and maintaining these wooden appliances is also pretty simple. Just take a small amount of soap water, clean it, and to give a stain-free and ever-shiny look, oil it regularly, and your natural materials stay intact for as long as possible.
2. Parisian Look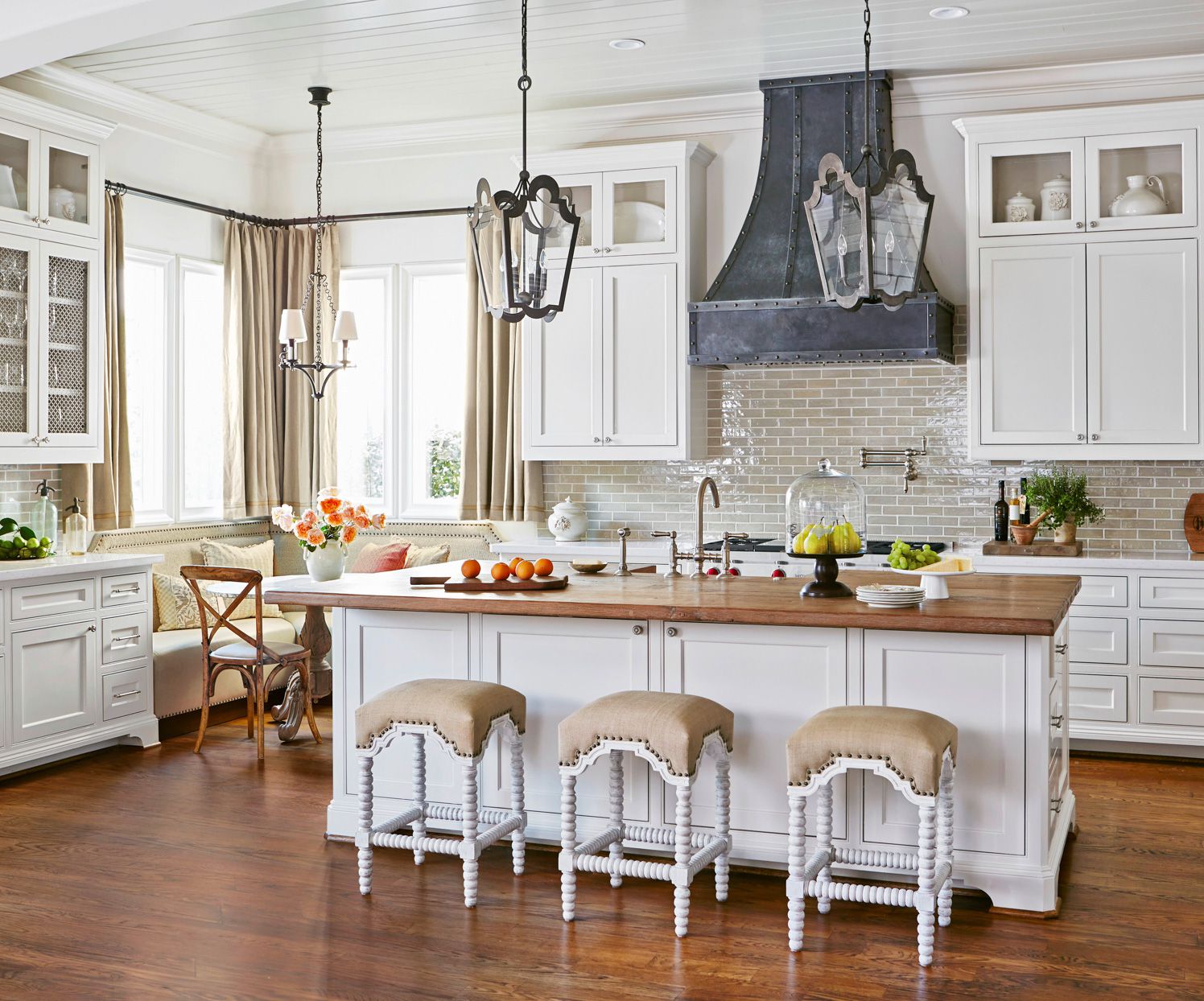 The contrasting cabinet colors, antique brass accents, colored backsplash tiles, and ample space complete a modern Parisian kitchen. While you cannot bring the actual Parisian attire to your place, adding a beautifully veined marble countertop table with vintage French chairs, lantern-like pendant lights, and other kitchen accessories will create a refined French look. Choosing bright colors will give you classic or luxurious attire, depending on your taste.
3. Retro French Country Kitchen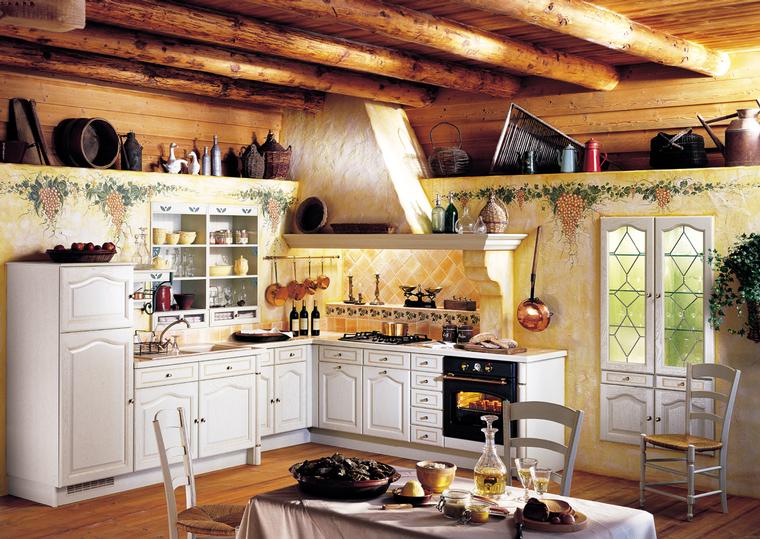 Consider bold yet timeless white cabinets, diamond knobs, multicolored tiles, and shelves filled with authentic French appliances. Now, these retro-themed accessories will perfectly balance the eye-catching theme and give off a French countryside vibe. Adding an apron-front sink will provide more room as its extra-wide and deep lengths will help manage multiple utensils effortlessly.
4. Separate Shelf for Hanging Things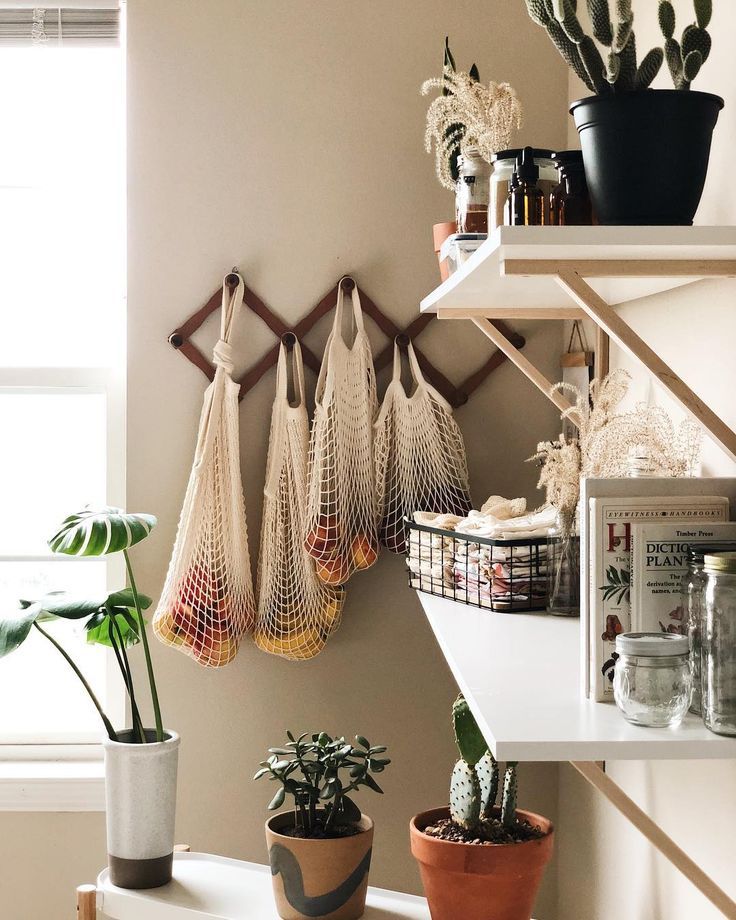 Having a peg rack to drop off fresh groceries bags, aprons, or dish clothes helps you organize your kitchen better by saving you some space. You can even build a cute little corner with a few decorative items and faux plants on the wooden shelf. And utilize this corner to relax and enjoy a cup of coffee by yourself. Ensure that the rack or the hanging hooks are set by the door or near a window for natural lighting.
5. Antique-Looking French Kitchen
Sturdy exposed beams, wooden panels and stools, arched ceiling details, and neutral, colored-floor calls out French dining. Highlight the polished finish space with dainty lights, an elegant counter surface, copper utensils, and some rare pieces. When it comes to the antique-looking kitchen, always look for magnificently crafted items to further the charm. It's always a good idea to make your kitchen look and smell like it came straight from the restaurants of France.
6. Brick Background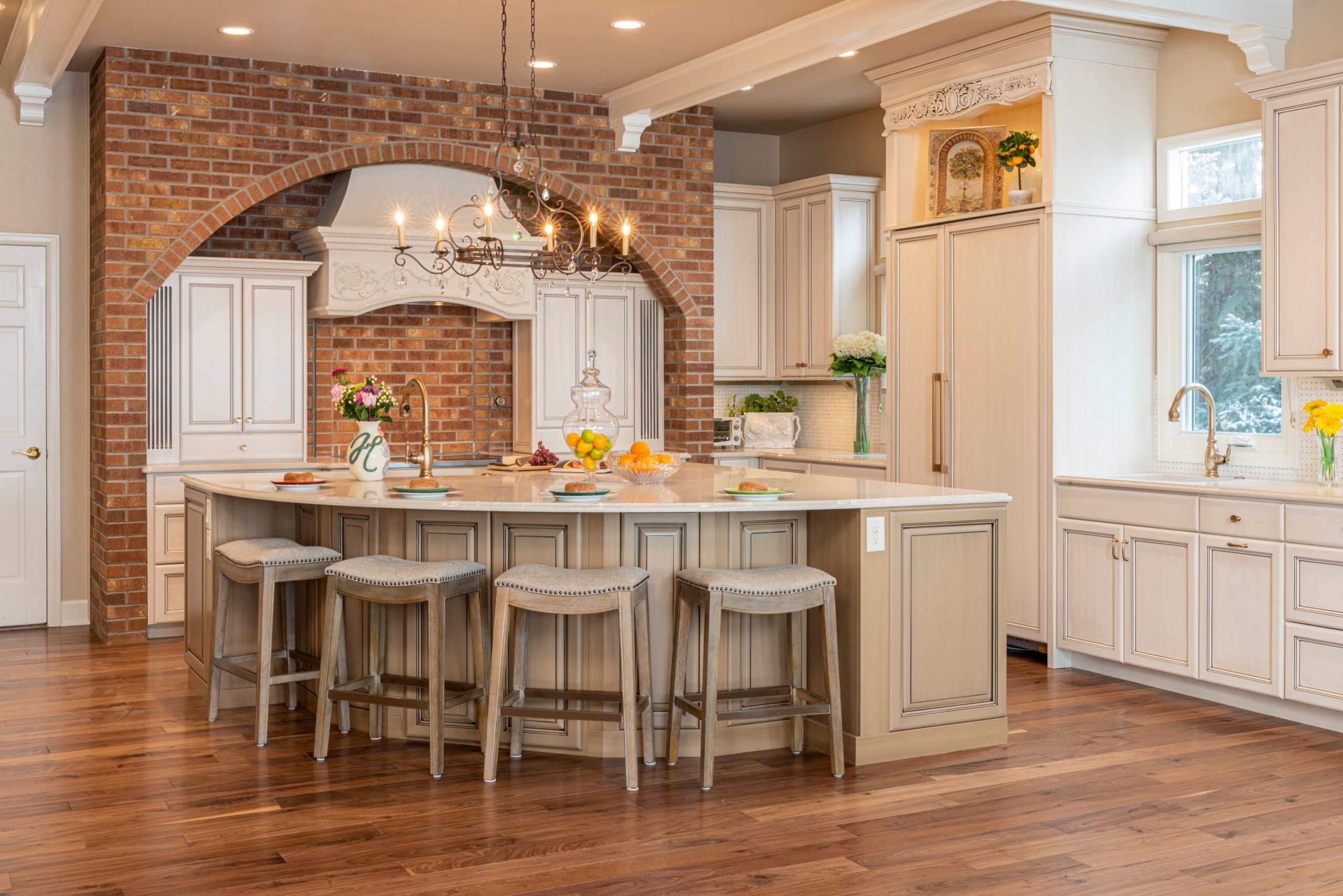 Rather than going for backsplash tiles or wallpapers, welcome the countryside charm of using bricks as your background. The messier the fits, the more French they will appear. It also brings a vintage and unique kitchen style from the modern décor page. With some creative art pieces, wooden accessories, bronze pendant lights, and vegetable-cutting cardboardlying on the corner, you have an exquisite French kitchen ready to be used.
7. Cooper Highlights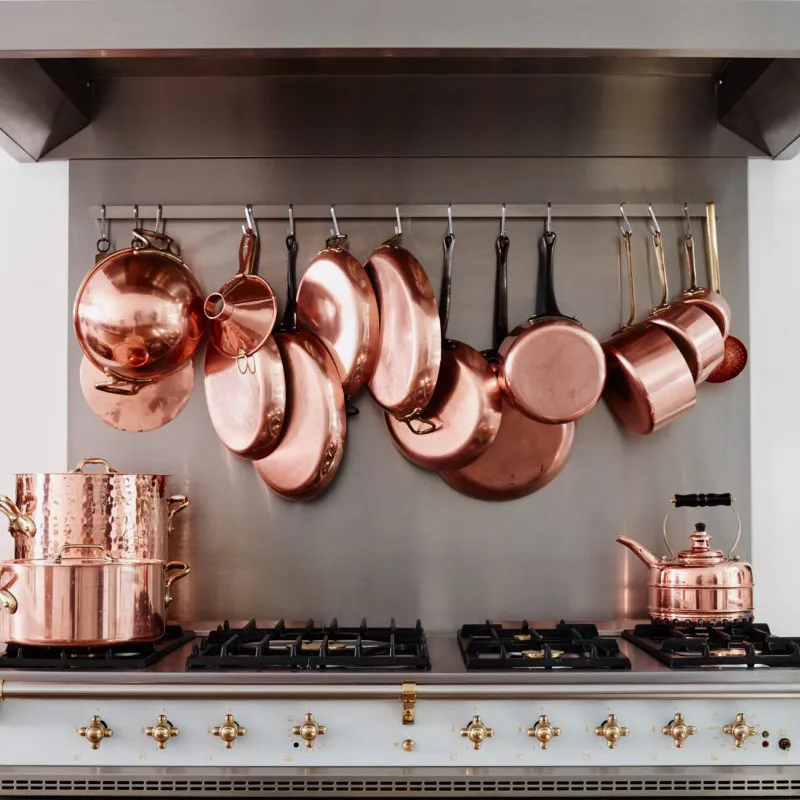 Having an all-white kitchen theme with a metal or wooden panel filled and a collection of your copper pots hanging just above the stove is all you need for a copper-themed kitchen. They are the most useful cookware and appear as unique shiny attractions. If you love using copper items, you can always include copper lights, drawers, bottles, cutlery, and even cabinet handles to create a copper-accented environment.
8. Go for a Patinaed Hood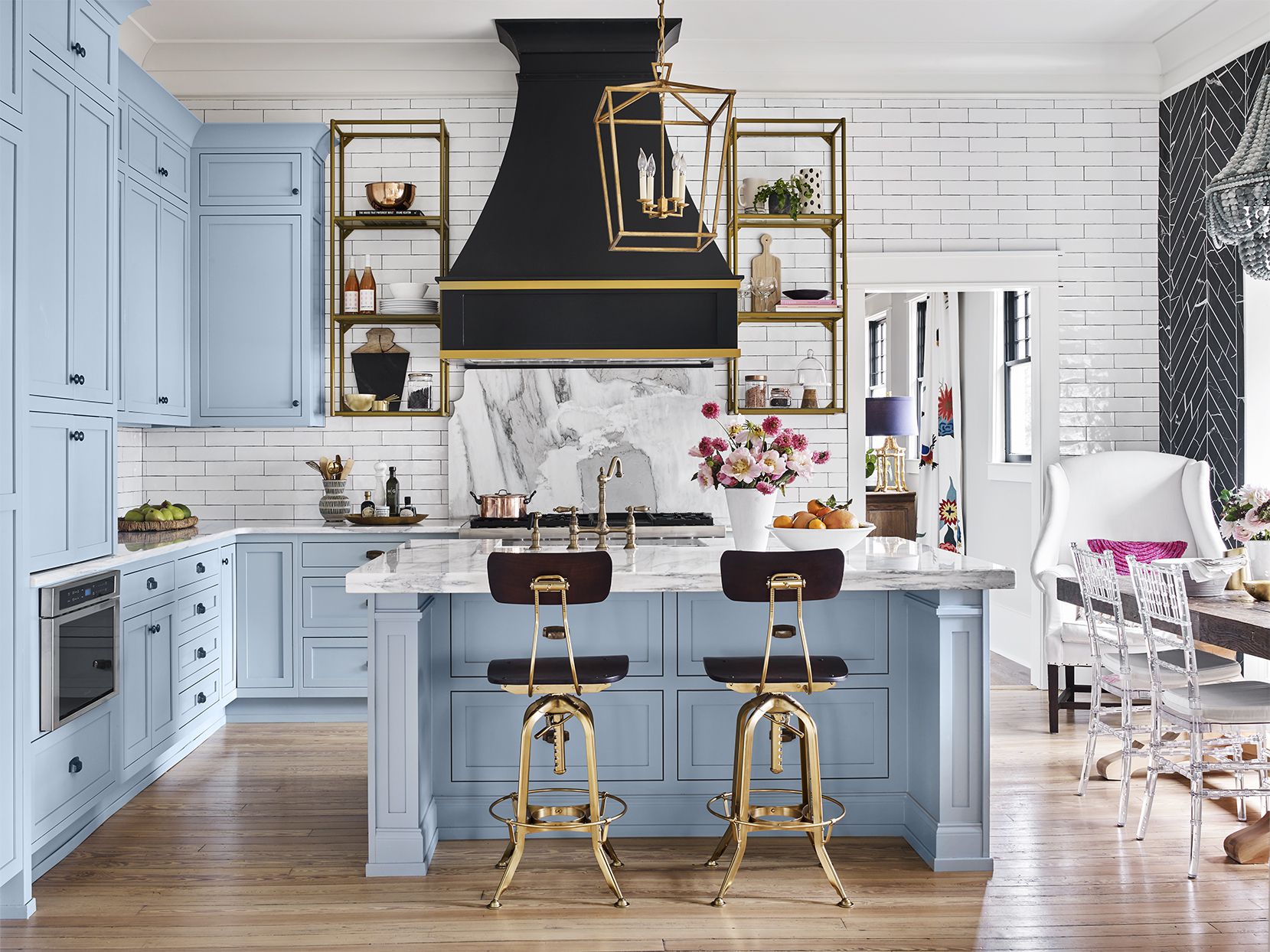 Weathered metals provide a luxe touch to your kitchen space. Simply use bright colors and textures with beautifully-inclined cabinets and a fancy chandelier in the middle. To perfect the French look, choose the properly fitted, easy-to-use, and elegant-looking hood. Use stylish chairs and a kitchen vent with brass accents in traditional forms and proportions to make it home-like.
9. Having a Focal Point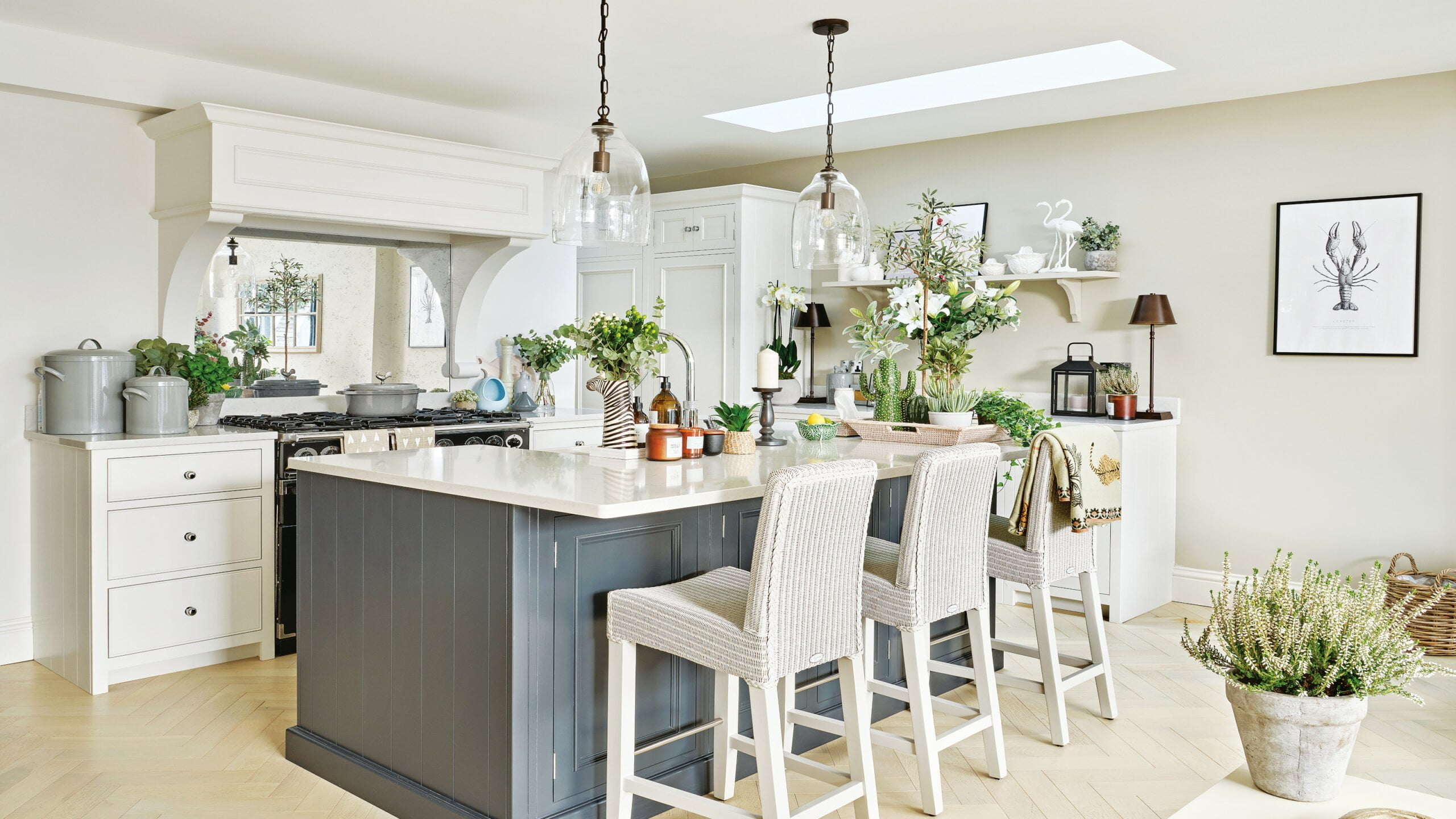 If you focus on having a captivating center that draws all eyes towards it, you have mastered the French Country Kitchentheme. And, for French people, the center of attention is their kitchen table, where they like to sit and have a wonderful time. Unlike other countries, French seating means polished or painted wooden chairs spread across the table with a touch of greenery. In addition, a pretty white tablecloth, classic-white crockery, and a crystal bowl filled with fresh fruits can also do the trick.
10. Nature Calling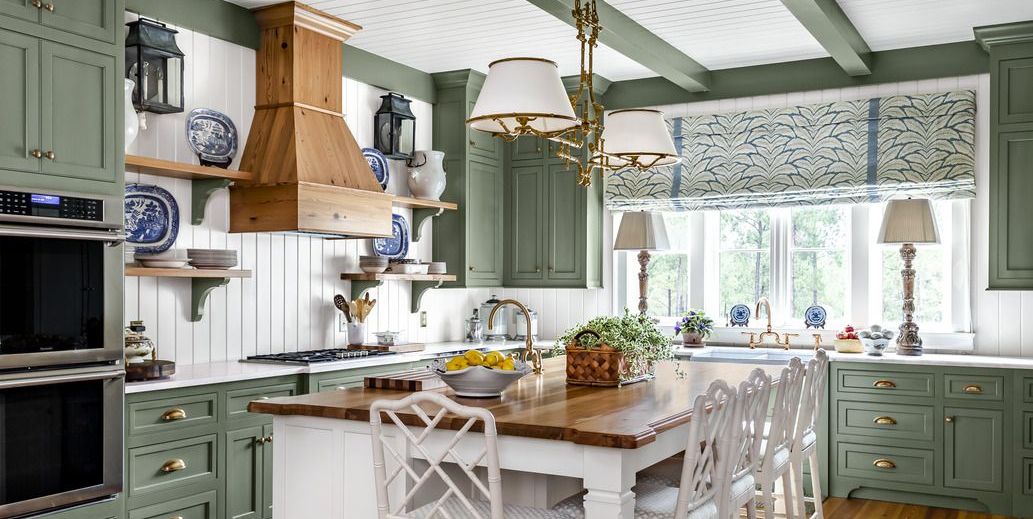 For designing a nature-inspired French Country Kitchen, go all out and take risks. If you are someone who prefers warmer palettes, take motivation from nature's greenery and flowers planted in your front or back yard. If you are more inclined towards darker shades, use earthly tones of grey and brown to liven up the place. Pick out attractive range hoods, patinated metal works, decorative ornaments, and bistro chairs to finalize the look.
11. Eclectic Seating Space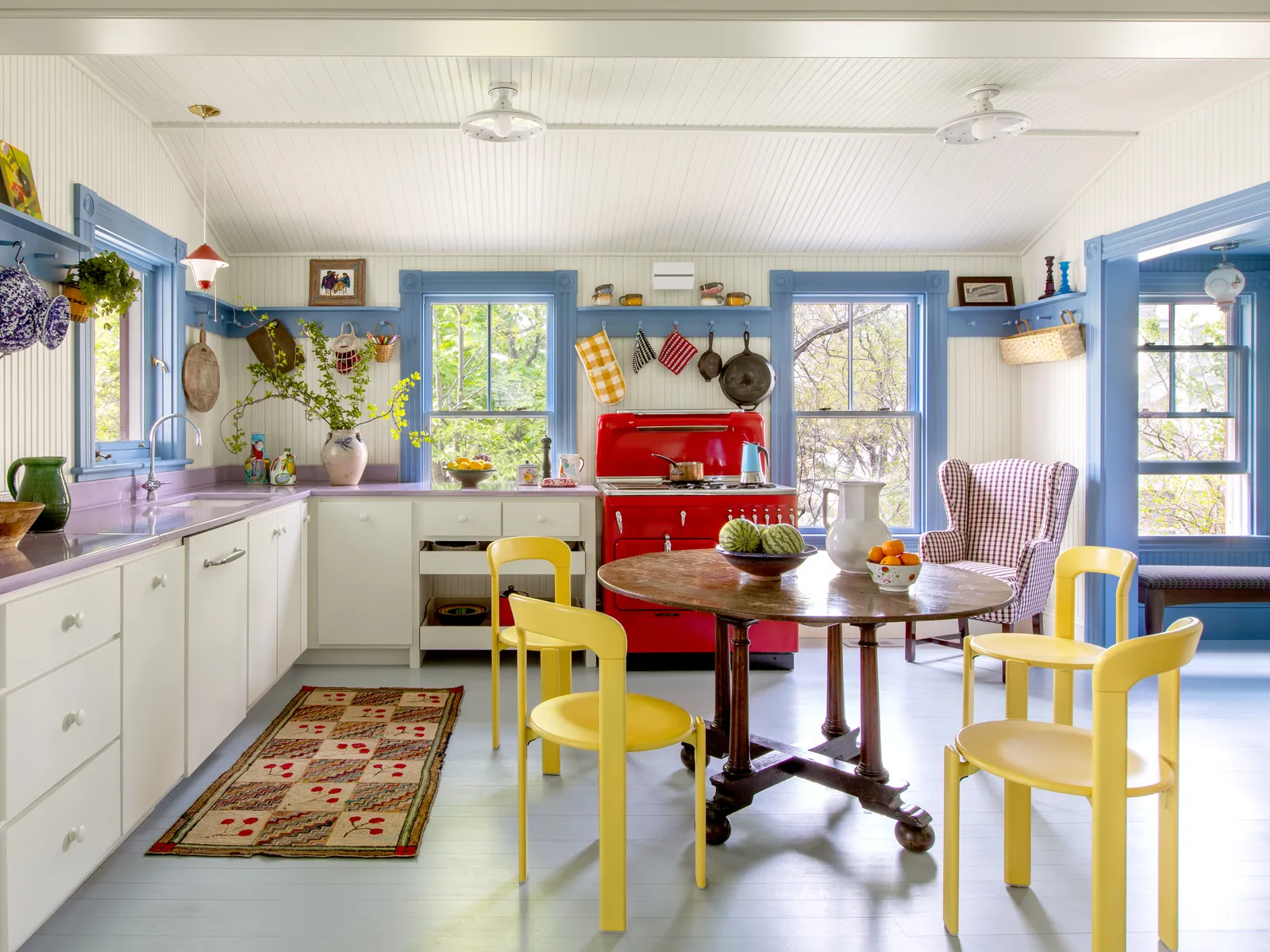 French kitchens are made for family gatherings. So, choose a traditional white backsplash, hanging lights, and open windows with plants on the side. Use neon-colored chairs with classic white cabinets and some cookware to spice up the space. Or you can make a small corner space with chairs covered in sheets, linens, and pillows, providing the utmost comfortable seating experience. And, a great place to read your book.
12. Rustic Accents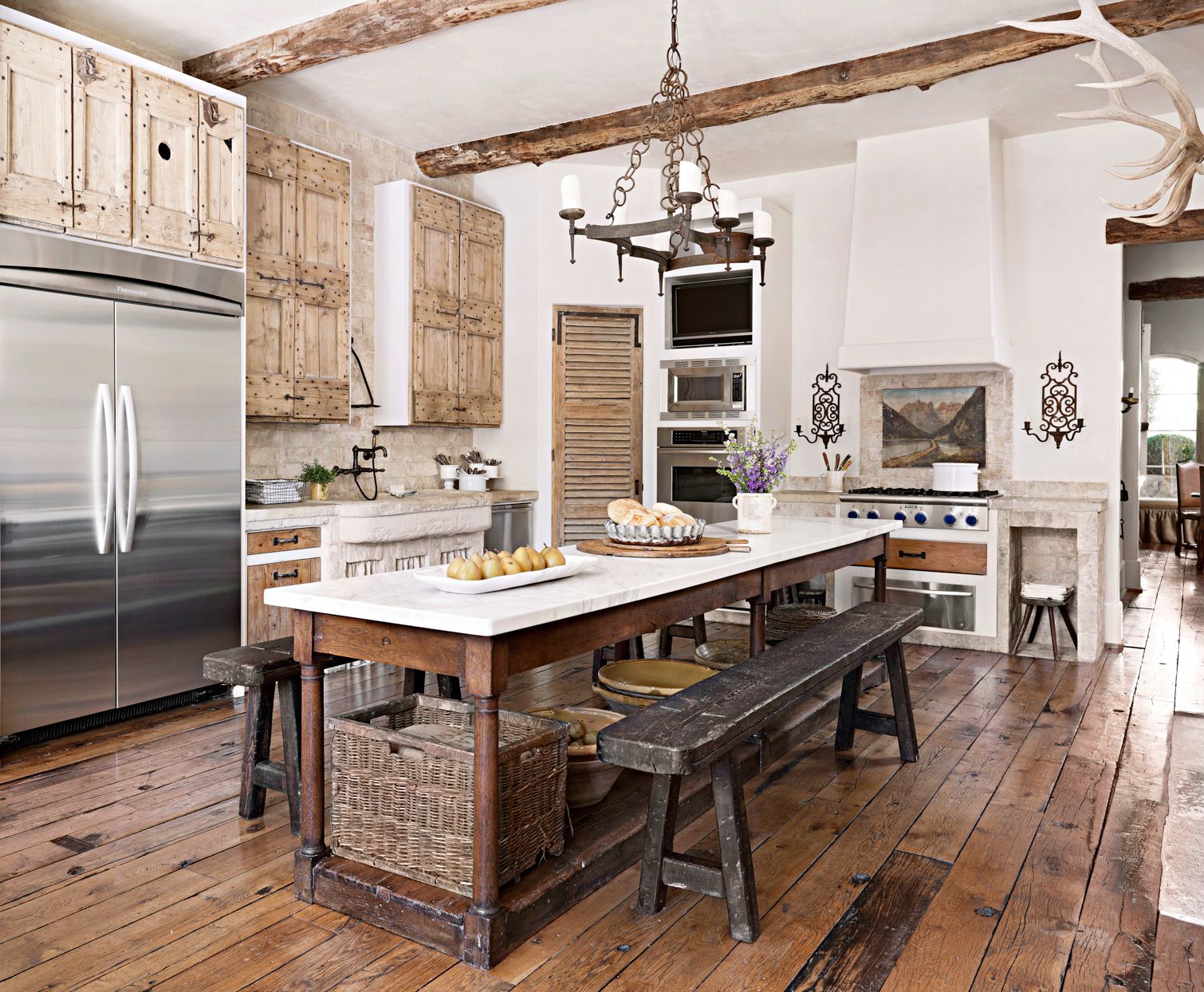 Reclaimed floorboards, a cobblestone-accented wall, and half-timber ceiling beams offer your French Country Kitchen a rustic tone. The captivating stone island-wooden table, velvet cornflower stools, fascinating artworks, and wooden chandelier gives the kitchen a French Chateau vibe. In addition, giving a touch of iron and bronze accents to the mix will accentuate the look even more.
13. Lavish Details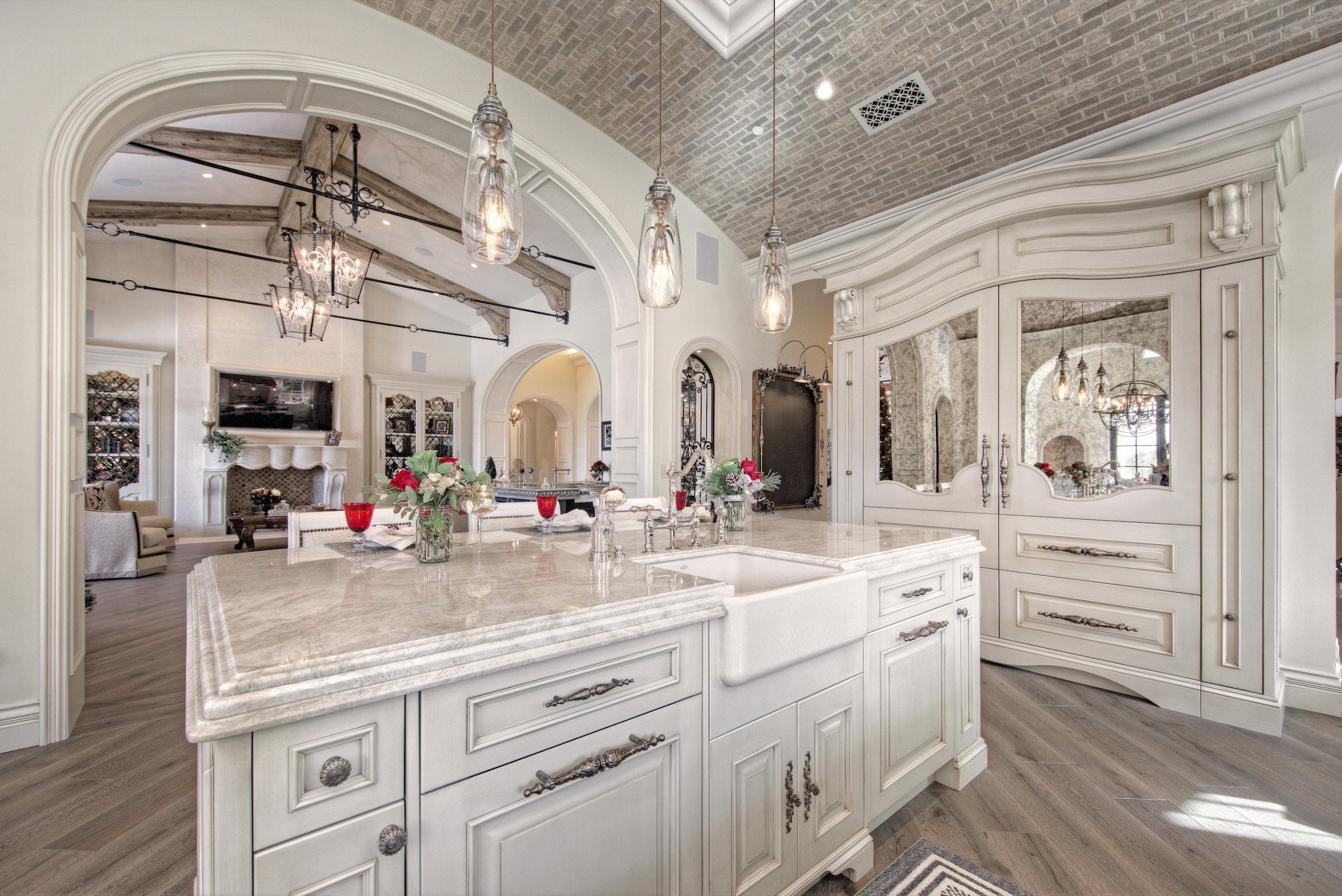 Instead of traditional cabinets, go for furniture hardware with pendant pulls and decorative knobs, giving a lavish look. Adding rare artifacts will enhance the rich appearance of your French-themed kitchen. Presenting an elegant look doesn't mind adding much bling to the place. Rather, look out for minor details like labeled jars, rich colors, organized crockery in the window glass cabinets, and a classic pantry or bar storage that helps maintain the aesthetics.
14. Chandeliers to The Glam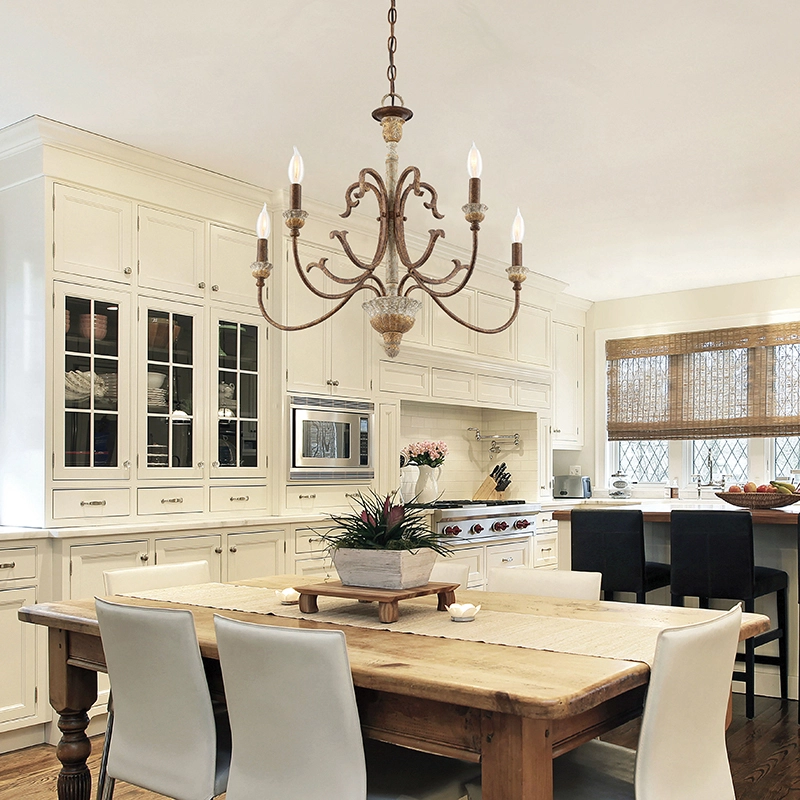 A traditional French style offers antique appliances with intricate detailing and a stylish crystal or candelabra chandelier. Have a neutral-colored background with well-organized fitted cabinets to pull off this attire. You can also add potted plants, gorgeous silverware, vintage stools, or a bench where the entire family can sit and enjoy. The more open and airy the space, the more these chandeliers shine.
15. Showcase Your Collection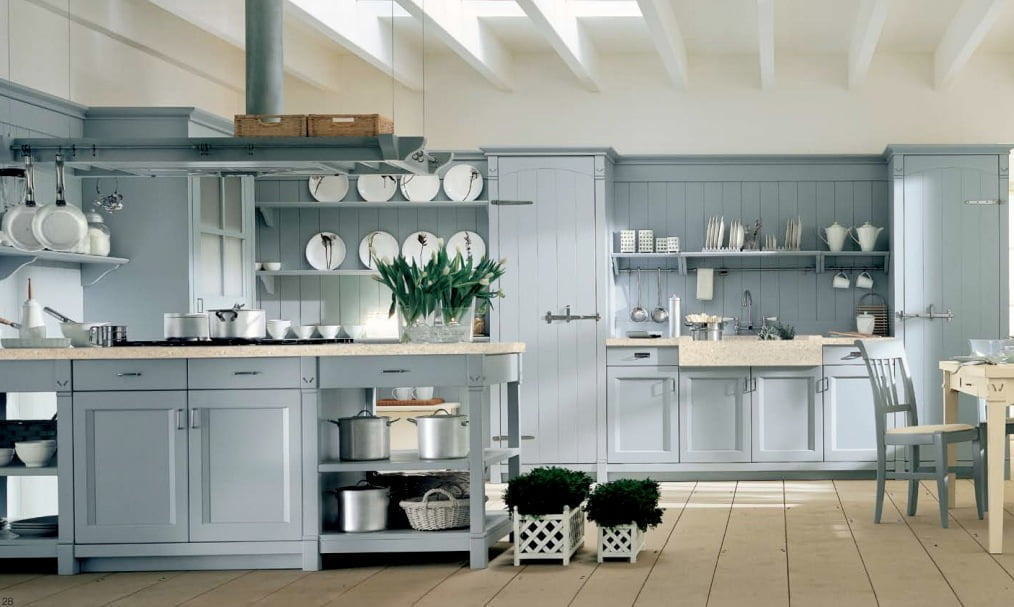 A French country kitchen is about having enough space to cook effortlessly and store and showcase their special memories. And the space should be clutter-free to provide a feeling of comfort and coziness. Hence, add on some wooden shelves, or have an open-shelf kitchen, to put out your best crockery or collectibles that hold value. You can also hang paintings, vintage clocks, or kitchen items with the help of clip rings or hooks.
16. Classic Style with Exposed Beams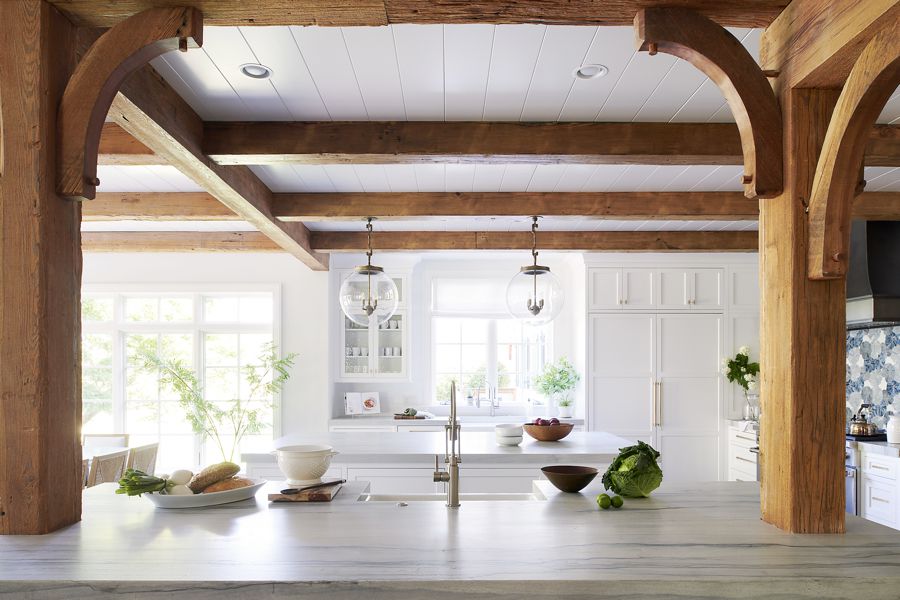 A mixture of classic items like high-ceiling pendant lights, crown-molded white cabinets, and exquisite marble countertops make up a classy French country kitchen. Rather than going for white tiles, add grey backsplash tiles or multicolored tiles for an upgraded look. To make the look more rustic, add on exposed timber or dark-stained wooden beams to highlight the ceilings, giving your guests a spacious and inviting outlook.
17. Choosing Floor Tiles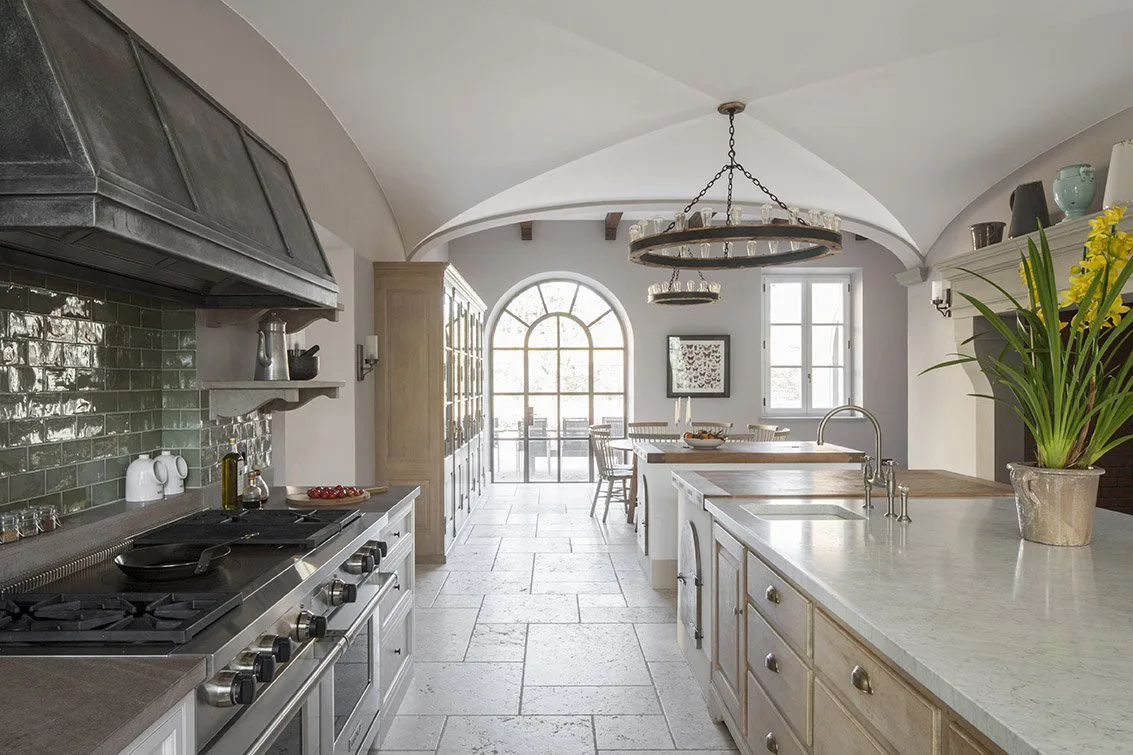 Whether you go for colorful check floor tiles, Tuscany limestone, or blue Frisian tiles, they can change the whole view of your kitchen. If you are going for colorful tiles, make sure you have high ceilings and exposed beams, so you can accentuate the look by adding modern light fixtures. In contrast, limestone tiles and warm honey tones bring a certain warmth and distinctive texture to the kitchen. When designing Frisian tiles, use tiled marble floors and sturdy furniture with elegant lights.
18. Going All-White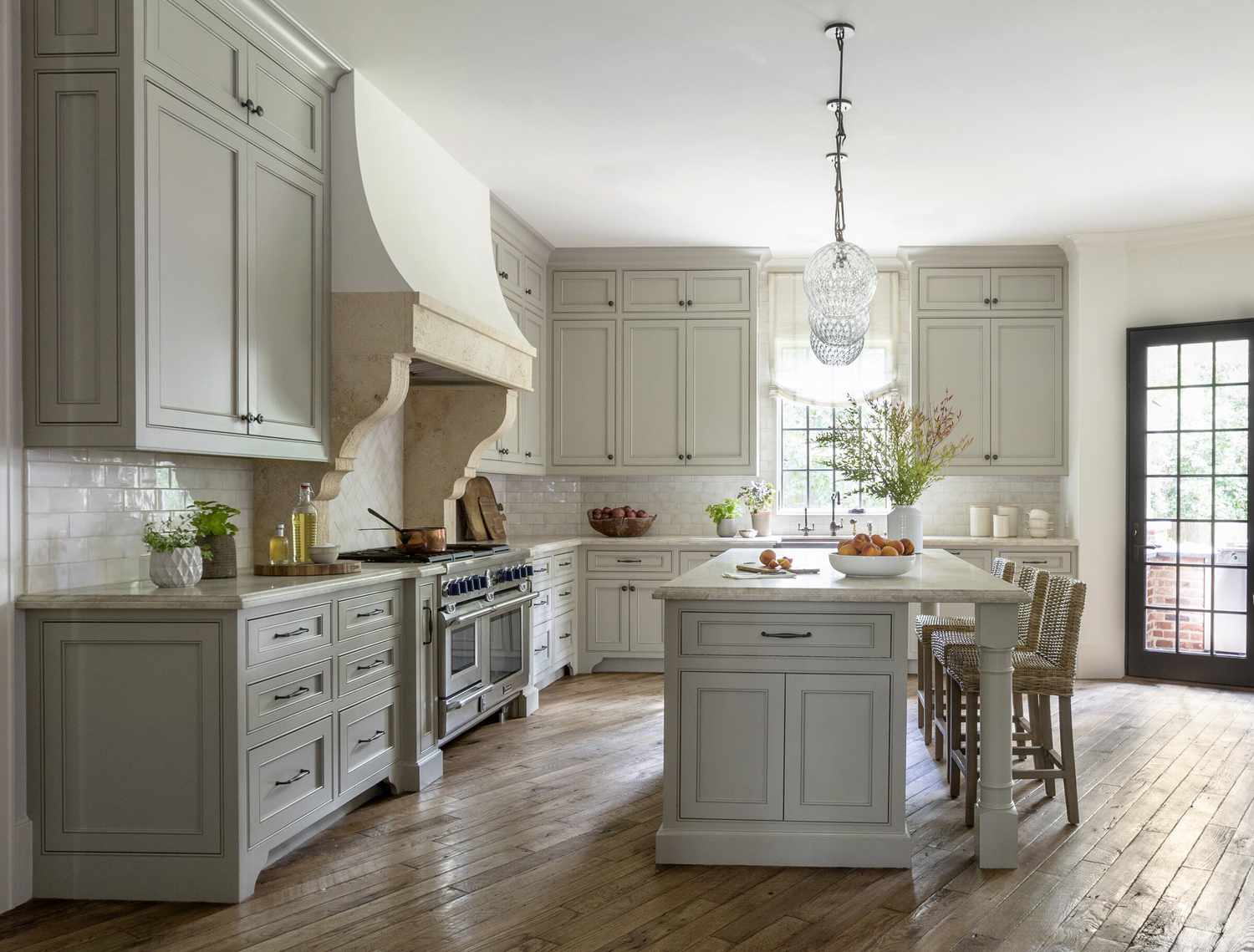 Traditionally, French-style kitchens have either a cream base or an all-white accent to create the perfect balance between structuring the kitchen and giving it a homely touch. Using softer whiter tones for detailing cabinets, a subway backsplash tile, and the polished marble countertops point towards a sophisticated French kitchen attire. To complete the all-white look, choose exquisite antique chairs and white lamps.
19. Farmhouse Style Kitchen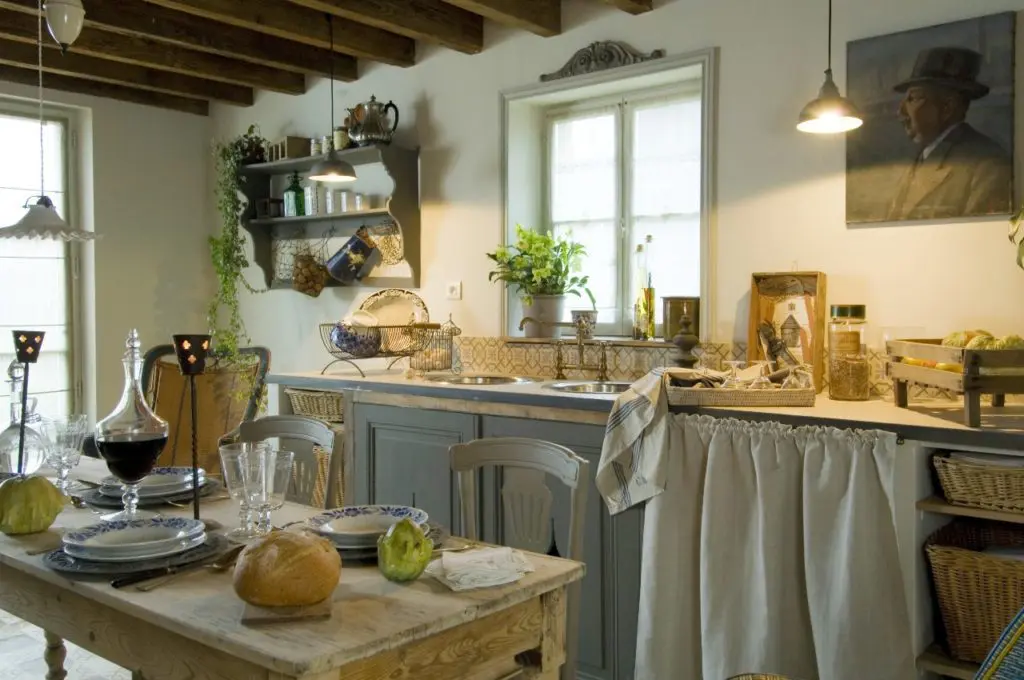 Get inspired with the French farmhouse-themed kitchen, decorated with vintage-frame paintings, wooden beams, and a coordinated color scheme. Install a farmhouse table channeling the French spirit, giving a laid-back look, along with a rustic medium-toned wooden table, a medieval chandelier, and aesthetic chairs. For a luxe touch, hang out your best pieces of hanging copper pots filled with faux plants just above your rack.
20. Adding Vintage Articles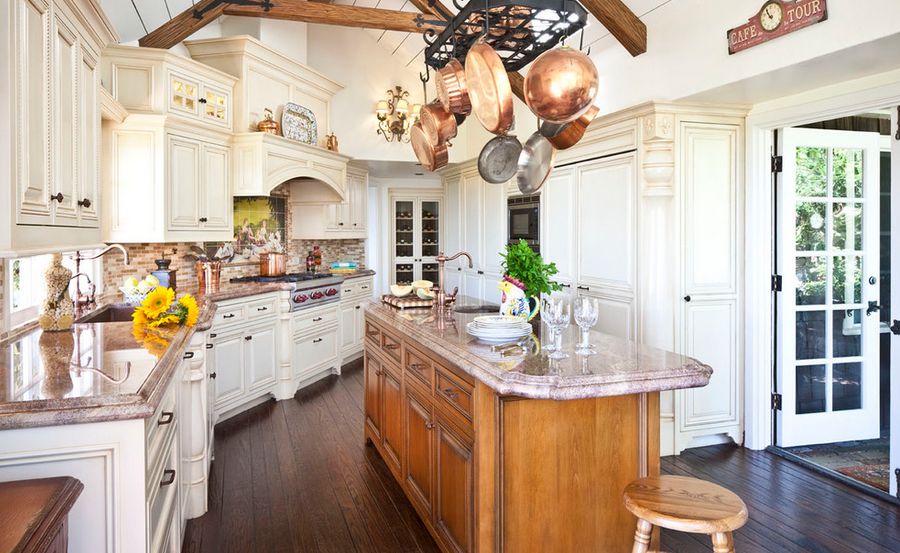 The secret to achieving a mesmerizing French country kitchen look is ensuring the décor choices give away a social vibe. And simply stuffing all the items or overdoing it would ruin it. So, take a stroll around vintage shops, find pieces that strike you, take a closer look at the detailing, or pick out accessories with intriguing histories and build your modern kitchen accordingly. Layering a bunch of antique cutting boards is also a good-to-go choice.
21. Incorporating a Pantry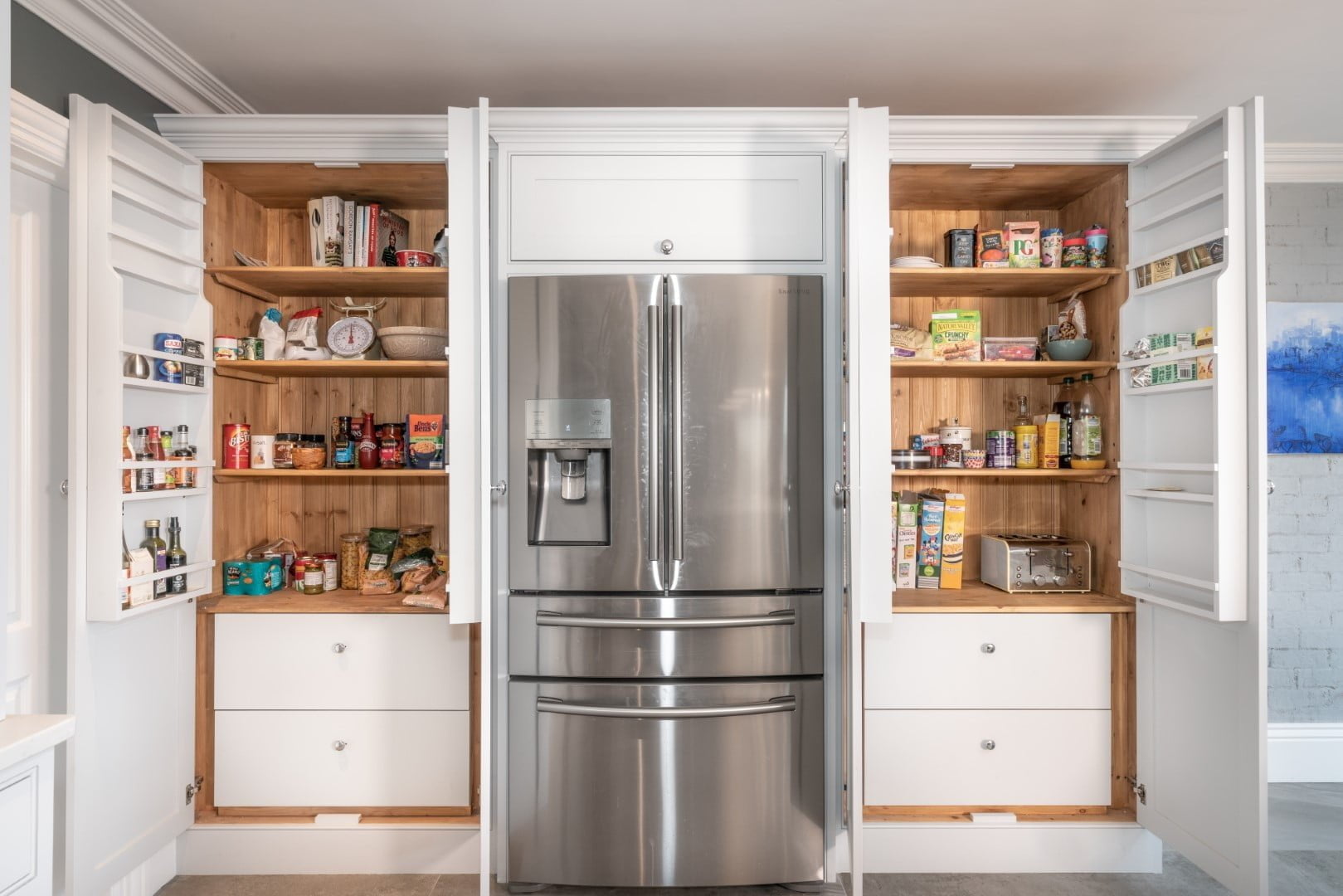 Did you know the French have a noteworthy love for their food, drinks, and architecture? Creating a separate space for the designated pantry seems like a good idea for storing all the food and going French about it. It stays close to your kitchen to avoid the hassle of running all over your house and keep your kitchen clutter-free too. A customized pantry is an excellent choice because it maximizes space and can be designed to be visually appealing, utilizing natural materials such as reclaimed wood.
Conclusion
French country kitchens are more family-oriented, super chic, and reek of elegance. They can be as fancy as you want with oven hoods, vintage collectibles, glamorous furniture, and a mixture of natural materials like wood, copper, stone, and plants. Or, they can be sleek and simple using local materials, traditional attires, and warm-colored palettes that perfectly fit your budget.
If you are someone who's interested in turning your kitchen into a French-themed one, the time is now. Make a checklist of everything you need to include in your kitchen, shop them locally or online, and start the process as soon as possible.
Frequently Asked Questions
How Can I Make My Kitchen Look Like a French Country Kitchen?
Using surface space as a dining table and prep counter rather than islands, pendant lights, matching cabinets, bright colors, and antique French chairs contributes well to a French kitchen.
What Colors Says French Kitchen?
Bright natural colors, shades of whites, browns, and greys, are some of the typical French kitchen colors. However, the further south you go, the richer and bolder colors become, like the tones of yellows, blues, and terracotta.
What Features Best Represent French Kitchen?
The distinctive look of a French kitchen features warm and earthy colors and natural materials like wood and stone. It incorporates things like exposed beams, pantries, open shelves, antique items, and farmhouse-themed tables or sinks.
What Is the Difference Between a French Country Kitchen and An English Country Kitchen?
French décor portrays an informal look with colored tones, vintage collections, kitchen accessories, and wooden appliances. English style is more formal and polished, with organized aesthetics and brighter colors.